Healistic Planet Body-Tox One-Step Natural Cleansing Program
Hawthorn Berry
15 Packets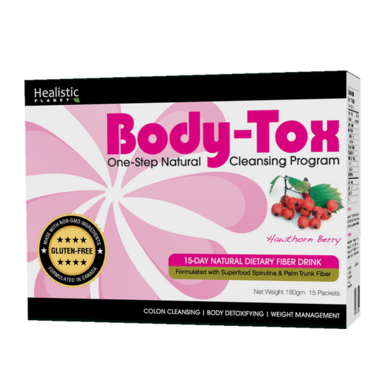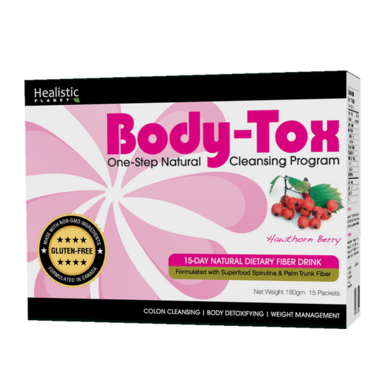 Healistic Planet Body-Tox One-Step Natural Cleansing Program
Hawthorn Berry
15 Packets
- We're sorry, this product is no longer available!
- Shop for other products in: Detox & Cleanses

Body-Tox is a 15 Day nutritionally balanced internal cleanse formulated specifically for the first time or sensitive user. It is designed to gently stimulate the cleansing and detoxification process of your body. Body-Tox is strong enough to be effective, yet gentle enough that it will not cause any cleansing discomforts. It removes and discharges the major toxin that accumulates in the colon and intestines without unwanted side effects, cramps, bloating and other discomforts.
Features:
Prevents Occasional Constipation
Improves Digestion
Less Bloating and Water Retention
Better Breath
Feeling Lighter
Helps Control Cravings
Regulates Body's pH Balance
Improves Energy and Concentration
Eliminates Toxins and Backed Up Waste
Improves Sleeping Quality
Boosts Natural Detox Ability
Improved Skin
To Start Your Cleanse:
To begin your cleanse, mix one packet of the 100% all-natural Body-Tox with 250 ml room temperature or cold water one hour after your last meal of the day. It is normal for bowel movements to increase in size and/or frequency.

Ingredients:
Apple Pectin, Oil Palm Trunk Fiber, Hawthorn Berry, Spirulina, Mixed Berries, Aloe Vera, Guar Gum, Citric Acid, Oligosaccharide, Green Tea (decaffeinated)
Caution:
If you are pregnant or breastfeeding, it is recommended that you consult with a qualified practitioner or your doctor, before commencing any of our detox and cleanse program. Consult a healthcare practitioner if symptoms persist or worsen.
All Natural, Gluten Free, Non-GMO, Dairy Free, No Dietary Restriction, No Preservative