Health Logics
Health Logics BioCell Collagen
Dietary Supplement 120 Capsules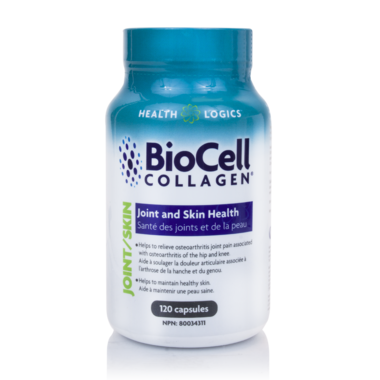 Dietary Supplement
120 Capsules
---
Description

Feed your joints and skin!
Since it's discovery in 1997, millions of consumers have safely enjoyed the benefits of BioCell Collagen, a patented dietary supplement that provides a highly bioavailable matrix of collagen and hyaluronic acid.
Collagen is the essential glue like substance in our connective tissues providing the structural framework of healthy skin, joints, tendons and ligaments.
Hyaluronic acid (HA) is the hydrating sponge like substance in our extracellular matrix that provides fluid lubrication to our joints and suppleness, elasticity and moisture to the skin.
As we age, we experience the loss of collagen and HA and the deterioration of our connective tissues. Taking a daily supplement of BioCell Collagen® helps to counteract these negative consequences. In fact, a subjective joint relief study demonstrated that almost 90% of the people surveyed reported benefitting with the use of BioCell Collagen®. More than 20 published studies including 4 human clinical trials support the effectiveness and safety of BioCell Collagen®. It's holistic and natural approach to maintaining healthy connective tissue, joints and skin is unmatched by any other product on the market.
Features:
All-natural, safe and effective
Promotes joint comfort and mobility
Helps renew cartilage
Promotes skin, joint, tendon and ligament health via nutritional support of connective tissue
Clinically shown to increase collagen content in the face to reduce fine lines and wrinkles
Clinically shown to improve skin hydration up to 76%
Patented composition and molecularly optimized for high absorption
Medicinal Ingredients: 500mg Biocell Collagen II
®
[Gallus gallus (chicken sternal cartliage) standardized to 60% (300mg) Hydrolyzed Collagen Type II, 20% (100mg) Chondroitin sulphate, and 10% (50mg) Hyaluronic acid)]
Highlights

Shipping & Returns