Herbaland Gummy for Adults Calcium with D3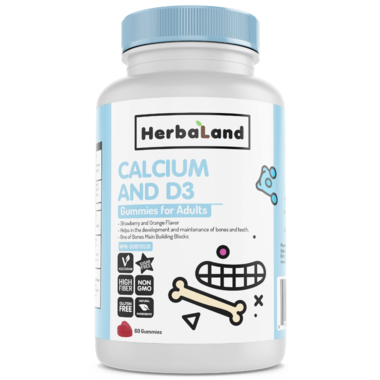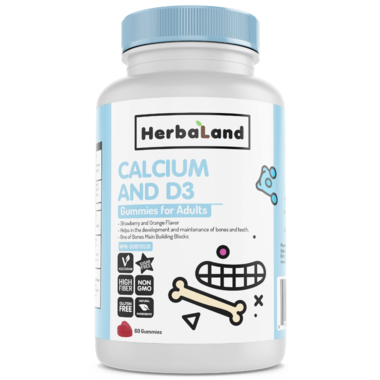 Herbaland Gummy for Adults Calcium with D3
Calcium is an essential mineral that plays an important role in the development and maintenance of bones and teeth. The addition of vitamin D3, which helps the body to absorb and use calcium more effectively, is also necessary for building strong bones. Our Calcium and D3 gummies are a great way to help you meet daily calcium and vitamin D requirements. These delicious gummies are made with our new plant based, organic and sugar-free formula!
Features:
Organic
Sugar-Free
Gluten-Free
Non-GMO
High fiber
Fat-free
CGMP Certified

Active Ingredients per gummy (3.0g):
Calcium (as Tribasic Calcium Phosphate) 100mg Phosphorus (as Tribasic Calcium Phosphate) 53mg Vitamin D3 (as Cholecalciferol) 3.75µg (150IU)
Other Ingredients:
Organic Isomalto-oligosaccharides (VitaFiber ), Purified Water, Organic Erythritol, Pectin, Organic Fruit Powder Blend (Strawberry, Raspberry, Blueberry, Tart Cherry, Pomegranate, Cranberry, Orange, Lemon), Natural Flavor (Strawberry, Orange), Citric Acid, Potassium Citrate, Natural Color (Black Carrot, Annatto), Organic Stevia Leaf Extract, Organic Sunflower Oil.