Holista
Holista Semi-Solid Coconut Oil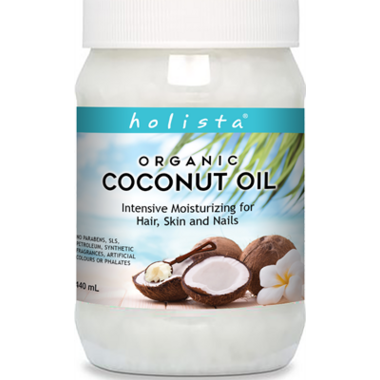 Holista
Holista Semi-Solid Coconut Oil
Description
Holista Organic Coconut Oil is an intensive all-natural moisturizer made from fresh, premium coconuts. The semi-solid oil is easily melted for application to hair or can be massaged directly into skin and nails. This natural alternative to commercial moisturizers, oils, or hair and scalp conditioners. Enjoy the sweet scent of coconuts without a greasy residue. It can also be used for food preparation.
Features:
Made from premium fresh raw organic coconuts
Cold pressed and unrefined
Contains no parabens, SLS, petroleum, synthetic fragrances, or phthalates
Versatile moisturizing applications
Food-grade oil and nourishing superfood
Suggested Uses:
Deep Hair Conditioner:
Place jar in warm water until coconut oil is liquid. Apply 1–2 teaspoons to dry hair from root to tip. Wrap the hair in a shower cap and let the coconut oil nourish the hair for 30 minutes or longer. Shampoo to remove excess oil.
Skin Moisturizer:
Wash and dry skin lightly. Massage coconut oil on skin (the coconut oil will melt as soon as you apply it); wait 5–10 minutes to allow the coconut oil to be absorbed, then wipe away excess with a soft towel.
Cuticle Repair:
Take a small amount of coconut oil and massage on your cuticles. Coconut oil will moisture and condition to revitalize rough cuticles and help soothe painful hangnails or torn cuticles.
Ingredients:
Virgin organic Cocos nucifera (coconut) oil.
Caution:
Avoid eye contact. Keep out of reach of children.
Sealed for safety and freshness. Contains no parabens, SLS, petroleum, synthetic fragrances, or phthalates. Free of artificial colours, preservatives, or sweeteners; no dairy, starch, sugar, wheat, gluten, yeast, soy, corn, egg, fish, shellfish, animal products, salt, tree nuts, or GMOs. Suitable for vegetarians/vegans. Canadian brand.
Highlights

Shipping & Returns