HoMedics
HoMedics SoundSpa Portable White Noise Machine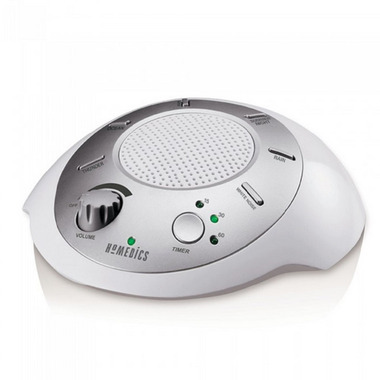 HoMedics
HoMedics SoundSpa Portable White Noise Machine
Model: SS-2000
HoMedics SoundSpa Portable White Noise Machine
is rated out of
5
by
12
.
---
Description
The Homedics SoundSpa Portable Sound Machine creates a peaceful sleep environment to fall asleep faster and wake completely rested. With six soothing, natural sounds including white noise, this HoMedics white noise sleep machine is also the perfect addition to a nursery. The rhythmic sounds create a feeling of comfort and help calm you or your baby to sleep.
What is sound therapy? Sound therapy refers to sound being used to treat physical, mental and emotional conditions. In general, this therapy is based on the theory that all of life vibrates, including people's bodies.
Homedics Sound & White Noise Machine Features:
Natural sounds help you relax while you read, work, study or sleep
Six digitally recorded, calming sounds
Continuous sound all day & night, or

Set for 15, 30 or 60 minutes with the auto-off timer
Compact & lightweight for easy portability
Battery or adapter operated (adapter included, 4 "AA" batteries not included)
Small and portable
Great for travel

6 Nature Sounds:
Ocean
Rain
Brook
Summer Night
White Noise
Thunder
Rated

1

out of

5
by
Mcmanus
from
Come out with one that lasts please!!
We have purchased 2 of these and they have worked great for about a year each and then the dial stops working and it happens to everyone if you read the reviews. Please make one that lasts because other than that this product is amazing!!!
Date published: 2018-09-09
Rated

1

out of

5
by
Bmurray
from
Didnt last 2 months
We bought this just before my son was born in may..in hopes that it would prevent my other son from waking up when my youngest cries! Worked great until it just stopped working..wont turn on at all.
Date published: 2019-07-02
Rated

5

out of

5
by
KatherineD88
from
No more Party Girl waking me up!!
I bought this years ago when the neighbour (in the apartment beside me) used to hold wild noisy parties both some week nights and on the weekends. I was constantly unable to get to sleep and, if I did, I would be woken up several times. Sometimes her parties would begin at 4am!! It was a nightmare. I asked her to keep her bedroom door shut, since the sound carried from her livingroom, through her bedroom, and into mine next door. Between that AND the purchase of this attractive little sound machine, my problem was solved. This little thing made an ENORMOUS difference in my life at that time,
Date published: 2022-05-04
Rated

1

out of

5
by
CDOld
from
Less than two weeks
It took less than two weeks for this product to degrade to the point where I can no longer use it. First, the sound quality started to degrade, then the volume reduced on its own, and finally the timer no longer worked. I am left with a piece of landfill.
Date published: 2020-10-13
Rated

5

out of

5
by
Tigger0842
from
Easy to use
I purchased this product 4 years ago now and despite some of the bad reviews, I have had no issue with my unit. Works plugged in and with batteries. Timers are perfect. It is portable so perfect. The sounds offered are good. Love the brook and rain options. Usually like ocean but on this one the brook is a better choice. I would definitely recommend. It still looks and operates like its new. Great value and construction, in my opinion.
Date published: 2020-04-10
Rated

5

out of

5
by
Rachel
from
Awesome sound machine
Bought this to help with out little one's sleeping. Love the variety of sound options, the volume co trial is great, and the main selling feature for us was that it can be used plugged in OR on batteries. We (outside of Covid time) travel with our little one and not worrying about where to find a plug in a room is a bonus (we use the plug function at home to cut down on battery use).
Date published: 2020-09-28
Rated

4

out of

5
by
Elise
from
This is a great noise machine and an improvement over the previous version. It's easier to use and you're not as likely to choose the timer option by mistake. It loses a star because we've only had it for a few weeks and the first one broke after 2 years so I'm not sure about longevity.
Date published: 2020-11-09
Rated

2

out of

5
by
Liz123
from
Beeping noise
I just got this a couple of days ago to use in my baby's room. I noticed last night while rocking my baby to sleep that there is a beeping that repeats every two seconds on the white noise function. It doesn't seem to bother my baby, but it is driving me absolutely bonkers.
Date published: 2020-11-11