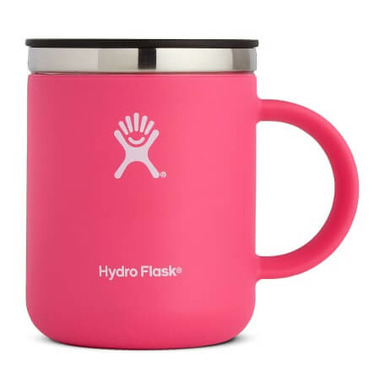 Description
Sometimes you want to sip and savor, and sometimes you're on-the-go. Their 12 oz Coffee Mug provides the tactile experience of your favorite morning cup with the insulation and dependability of your favorite Hydro Flask. So feel free to slow down and take in the day, or start your multi-tasking early; our Coffee Mug will ensure you start strong.
Features:
TempShield™ insulation keeps beverages cold or hot for hours
Insulated press-in lid for temperature control and splash-resistant transport
Soft touch finish for a cozy feel in your hands
Durable design to withstand daily use
Durable 18/8 Pro-Grade Stainless Steel construction
BPA-Free and Phthalate-Free
Lifetime Warranty
Press-in lid features Honeycomb Insulation™ for additional temperature control and an opening for easy sips. A splash-resistant way to transport your beverage.
Soft touch finish for a cozy feel in your hands.
Their products are BPA-free for ultimate purity. Stay refreshed and worry-free.
Hydro Flask guarantees every Hydro Flask product with a limited warranty against manufacturer defects. Hydro Flask Hydration, Tumblers, Coffee, Beer, Wine & Spirits, Food, Large Capacity Hard Goods, and Hard Goods Accessory Products carry a limited lifetime warranty against manufacturer defects for the life of the product.
Size & Dimensions
12 oz
Volume 355 mL
Mouth Diameter 3.5"
Diameter 5.0"
Height 4.5"
Weight 11.2 oz
Features
TempShield? insulation keeps beverages cold or hot for hours Insulated press-in lid for temperature control and splash-resistant transport Soft touch finish for a cozy feel in your hands Durable design to withstand daily use Durable 18/8 Pro-Grade Stainless Steel construction BPA-Free and Phthalate-Free Lifetime Warranty