Inari
Inari Organic Potted Barley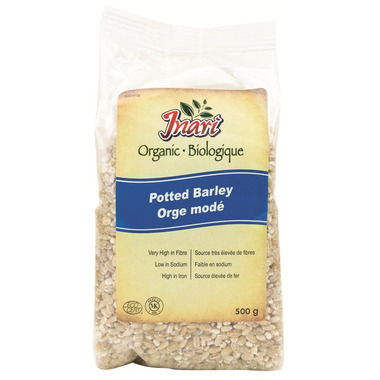 Inari
Inari Organic Potted Barley
Description
Potted barley, also called scotch or hulled barley, was one of the first crops cultivated by man, and has been used as a food since Biblical times. Today, barley is still considered an excellent source of soluble fiber. Additionally, it's easy to blend barley's nutrition and texture into a variety of foods. It may be baked in casseroles, used as stuffing, or pureed for cereal or pudding with maple syrup, cinnamon and dates.
Features:

Certified Organic and Non GMO
Very high in fibre
Sodium free
Source of iron
Kosher
Cooking Directions: Rinse potted barley. Bring to a boil 3 parts of water for 1 part of barley. Add salt and 1 tsp of oil. Reduce and simmer for about 1 to 1 1/4 hours. Shake and serve.
Highlights

Shipping & Returns