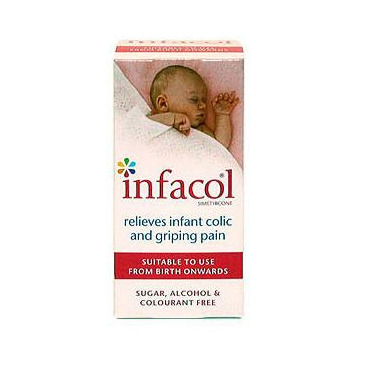 50 mL
Infacol - Alcohol-Free
is rated out of
5
by
12
.
---
Description
Infacol has been specially formulated to relieve wind, infant colic and griping pain.
Clinically proven to significantly reduce the frequency and severity of crying attacks associated with colic.
Can be used from birth onwards
Natural orange flavour
Sugar, alcohol and colourant free
Comes with a handy integrated dropper - making it easy to give to your baby
Shipping & Returns
Rated

5

out of

5
by
Sage
from
It's the only thing that works for our baby's gas. We've been using it since he turned three months with every feed. The instructions are a bit confusing, because it says you have to administer before a feed but up to a maximum of three droppers, but our doc. said it was fine before every feed. I like that there are no side effects and that it isn't absorbed into the system. If you don't use it before every feed, it won't be effective. Baby loves the taste -- he brings it to his mouth when he sees it out. We have used it for almost two months now.
Date published: 2012-10-09
Rated

1

out of

5
by
h
from
I bought this product when the store was out of gripe water, thinking it would work the same or better. three times I tried to give it to my fussy baby and each time he would throw up 5 minutes later...don't know if he is just particularly sensitive to it...but I went right back to gripe water.
Date published: 2010-03-02
Rated

5

out of

5
by
Salb
from
Breaks up painful gas bubbles
My doula recommended simethicone (the active ingredient). Lifechanging. I use this for my baby who swallows a lot of air when feeding and we can't always get all the burps out, this product makes it a lot easier for them to pass the air bubbles without pain. Highly recommend.
Date published: 2023-03-26
Rated

4

out of

5
by
Katherine
from
We used this with our colicky baby of about 2 weeks old and onwards. It knocks him down almost immediately after use. We used less than the recommended dose. Kinda scary but it works. I got one at home and one in the diaper bag.
Date published: 2011-12-14
Rated

5

out of

5
by
Laila
from
Excellent product! My baby is a very gassy baby, and she's breastfeeding! Make sure if you are using this to help with gas to make sure that it's given before every feed.
Date published: 2014-11-06
Rated

4

out of

5
by
Victoria
from
We have been using this product for our new born son, and it worked well every time. He doesn't particularly like the taste, but seems to work. Would buy again.
Date published: 2012-08-12
Rated

5

out of

5
by
MMA Spalz
from
Life saver
I was using Ovol for my little one but it wasn't working for some reason. We tried infacol before every feeding, and it has been our life saver.
Date published: 2020-06-04
Rated

4

out of

5
by
sam
from
We used this in every bottle with my little one. Worked like a charm, cheaper the Ovol.
Date published: 2010-03-11