Jamieson
Jamieson B6 B12 Folic Acid Bonus Pack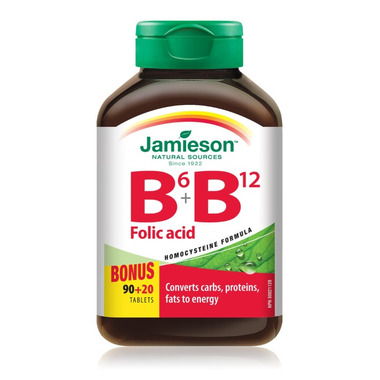 Jamieson
Jamieson B6 B12 Folic Acid Bonus Pack
Description
A select B Vitamin complex specially formulated to support heart health. This convenient one-a-day supplement helps control and helps reduce homocysteine levels.
Vitamins B6, B12, and folic acid work together to break down excess homocysteine in the body, thereby reducing the risk of arterial accumulation. People at risk of high, circulating homocysteine levels can benefit from supplementing with Vitamin B6, Vitamin B12 and folic acid to bring blood levels back into the healthy range.
Benefits:
Supports a healthy cardiovascular system, by controlling and reducing blood levels of homocysteine
A factor in the maintenance of good health
Helps the body to metabolize carbohydrates, fats and proteins
Helps in tissue formation
Helps to prevent vitamin B6 deficiency
Helps to form red blood cells
Helps to prevent vitamin B12 deficiency
Helps to reduce the risk of neural tube defects when taken daily prior to becoming pregnant and during early pregnancy
Helps to prevent folate deficiency
Each tablet contains:
Vitamin B6 (Pyridoxine HCl) ………………. 75 mg
Vitamin B12 (Cyanocobalamin)………..……150 mcg
Folate (Folic Acid)…...……………………. 800 mcg
Excipients:
Cellulose, Modified Cellulose Gum, Vegetable Stearic Acid, Vegetable Magnesium Stearate, Silica, Dicalcium Phosphate.
Highlights

Shipping & Returns