Jamieson
Jamieson Glucosamine Extra Strength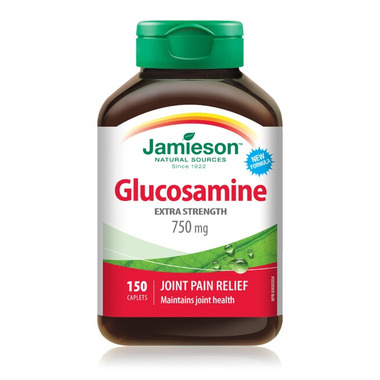 Jamieson
Jamieson Glucosamine Extra Strength
Description
Jamieson Glucosamine 750 mg is a high potency formula that provides a safe, effective alternative to non-steroidal anti-inflammatory drugs for the treatment of osteoarthritis. This glucosamine hydrochloride product is allergen- and toxin-free.

Benefits:
Relieves joint pain and osteoarthritis symptoms
Helps prevent cartilage deterioration

Supports vital joint and bone health and pain-free movement of hands, wrists, hips, ankles, knees, neck and back

Directions: Adults: Take 2 caplets daily. Use for a minimum of 1 month to see beneficial effects. Store between 15°C and 25°C, away from children.

Ingredients per caplet:
Glucosamine HCI 750 mg
(derived from Shrimp and Crab exoskeleton)

Also Contains: Cellulose, vegetable stearic acid, vegetable magnesium stearate, silica.

Warning: Consult a health care practitioner if symptoms worsen, or prior to use if you are pregnant or breast-feeding.

Chemical Name: Glucosamine Hydrochloride
Highlights

Shipping & Returns