Jamieson Melatonin 10mg Value Pack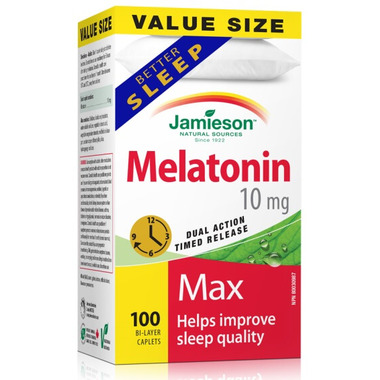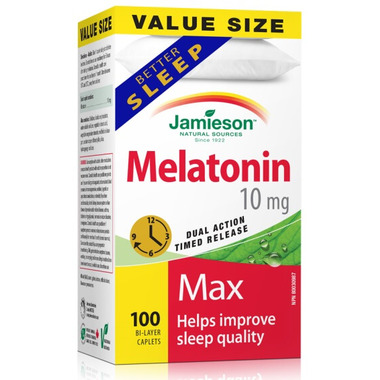 Jamieson Melatonin 10mg Value Pack
Jamieson Melatonin 10 mg Timed Release Dual Action is an enhanced maximum strength bi-layer, timed-release sleep aid formula. The first layer dissolves quickly to help you fall asleep fast, while the second layer slowly releases additional melatonin to ensure a full night of restful sleep.
Features:
Maximum strength, timed released formula providing 10 mg of melatonin
Improves sleep quality, and increases total sleep time
Safe and non-habit forming
Suggested Use:
Take 1 caplet daily at or before bedtime.
Ingredients:
Melatonin 10 mg. Cellulose, water-soluble cellulose, modified cellulose gum, vegetable stearic acid, vegetable magnesium stearate, silica, hydroxypropyl cellulose, natural colour (Spirulina platensis extract), titanium dioxide.
NO salt (NaCl), gluten, lactose or artificial flavours.
Caution:
Consumption with alcohol, other medications or natural health products with sedative properties is not recommended. Consult a health care practitioner prior to use if you are taking: anticoagulant, anticonvulsant, blood pressure, immunosuppressive, sedative, hypnotic or psychotropic medications, or steroids; if you have: cardiovascular, chronic kidney, immune system or liver disease, depression and/or related diseases, asthma, diabetes or hypoglycemia, hormonal or seizure disorders, or migraines. Consult a health care practitioner if symptoms persist or worsen or sleeplessness persists continuously for more than 1 month (chronic insomnia). Do not use this product if you are pregnant or breast-feeding. Mild gastrointestinal symptoms (nausea, vomiting, or cramping) and/or rare allergic reactions have been known to occur; if this occurs, discontinue use.