Jamieson Multi Gummies for Women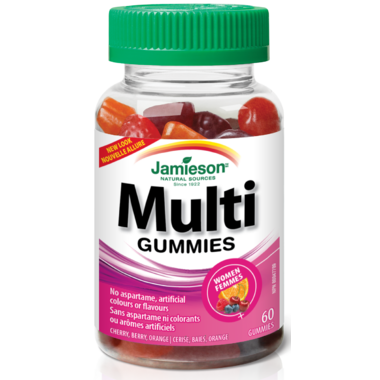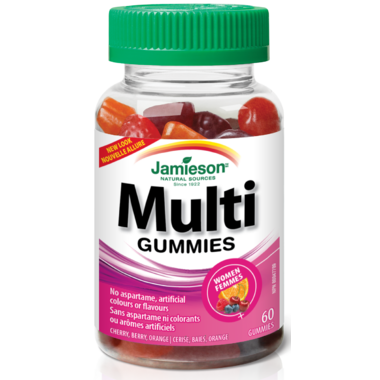 Jamieson Multi Gummies for Women
Jamieson's Multi Gummies for Women is a customized daily multivitamin specially formulated to support women's overall health. Each great-tasting, all-natural gummy provides additional nutritional support to help address common women's health concerns; including higher levels of calcium, and vitamin D for bone health. Offered in a delicious assortment of gummy flavours (Cherry, Berry and Orange), this complete women's multivitamin is free from aspartame, artificial colours and flavours.

Each gummy contains:
Vitamin A (retinyl acetate) 370 mcg RAE/1,250 IU
Vitamin B6 (pyridoxine HCl) 1 mg
Vitamin B12 (cyanocobalamin) 4.5 mcg
Vitamin C (ascorbic acid) 15 mg
Vitamin D (cholecalciferol) 10 mcg/400 IU
Vitamin E (dl-alpha tocopheryl acetate) 7 mg AT/15 IU
Biotin 75 mcg
Folic Acid 200 mcg
Calcium (tricalcium phosphate) 50 mg
Iodine (potassium iodide) 20 mcg
Zinc (sulfate) 1.25 mg

Also contains: Gelatin, glucose syrup, sucrose, citric acid, lactic acid, natural flavours (cherry, mixed berry, orange), natural colours (black carrot juice concentrate, berry concentrate, annatto), fractionated coconut oil, Brazilian palm tree wax, yellow wax.

No aspartame, salt, gluten, artificial flavours or colours.

Adults: Chew 2 gummies daily with food. Take a few hours before or after taking other medications. Store between 15°C and 25°C, away from children.

Warnings: None are known when taken as directed.