Jamieson Omega 3-6-9 Value Pack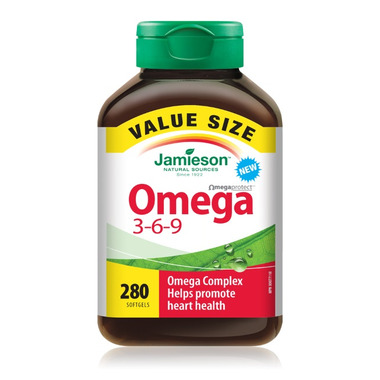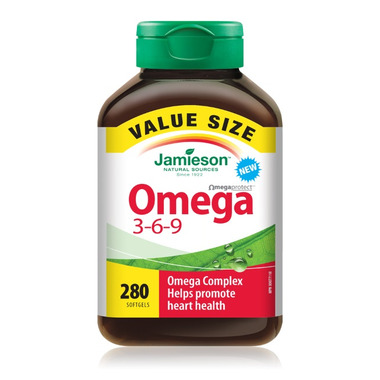 Jamieson Omega 3-6-9 Value Pack
Jamieson Omega 3-6-9 is a complete source of omega-3, 6 and 9 essential fatty acids. Derived from fresh, pure cold-pressed oils of organic flax, borage and sustainably sourced fish, it helps to support heart health and maintain healthy cognitive function.
Features:
Supports cardiovascular health
Helps reduce high blood pressure
Maintains healthy brain function
Enhances immune system function
Suggested Use:
Take 1-3 softgels daily with a meal.

Ingredients:
(Non-GMO) Flax Oil (Linum usitatissimum, seed) 99 mg, Borage Oil (Borago officinalis, seed) 99 mg, Fish Oil (Wild Alaskan Salmon and Menhaden) 840 mg, Providing: Omega-3 fatty acids (Flax, fish oil) 300 mg, Alpha-Linolenic acid (ALA) 48 mg, Eicosapentaenoic acid (EPA) 84 mg, Docosahexaenoic acid (DHA) 84 mg, Omega-6 fatty acids (Flax, borage oil) 58 mg, Linoleic Acid (LA) 40 mg, Gamma Linolenic acid (GLA) 18 mg, Omega-9 fatty acids (Borage oil), Oleic Acid (OA) 25 mg. Gelatin, glycerin, vitamin E.