Jamieson Platinum Adult Multivitamin Mini Caplets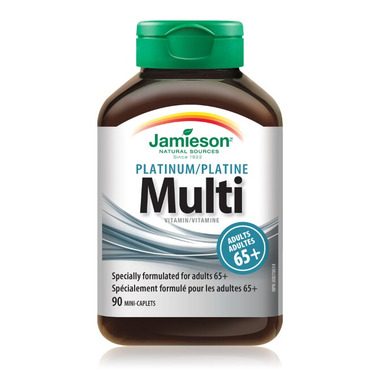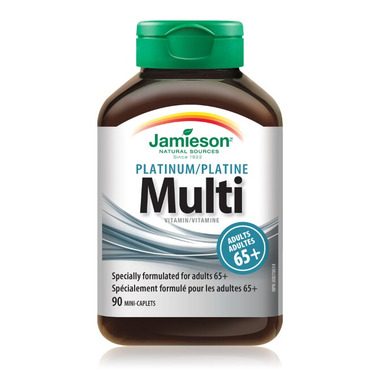 Jamieson Platinum Adult Multivitamin Mini Caplets
Jamieson Platinum Multivitamins are formulated to meet the needs of adults 65 and better. The easier to swallow mini caplet is iron free and vitamin K free, and comes in an easy to open bottle.
Features:
Specially formulated for adults 65+
Easy to swallow mini caplet
Vitamin K & Iron free formula
Easy to open bottle
Naturally energizing
Immune defense
Suggested Use:
Take 1 capsule daily with a meal.
Ingredients:
Amount % RDA (Adults 65+*)
VITAMINS: Vitamin A (acetate) 300 mcg RAE 100%, Beta-carotene 3600 mcg, Vitamin B1 (Thiamine mononitrate) 2.25 mg 188%, Vitamin B2 (Riboflavin) 3.2 mg 246%, Vitamin B3 (Niacinamide) 16 mg 100%, Vitamin B5 (Calcium d-pantothenate) 10 mg 200%, Vitamin B6 (Pyridoxine HCl) 8 mg 471%, Vitamin B12 (Cyanocobalamin) 12 mcg 500%, Vitamin C (Ascorbic acid) 90 mg 100%, Vitamin D3 (Cholecalciferol) 20 mcg/800 IU 133% (65-70) 100% (70+), Vitamin E
(d-alpha tocopheryl acetate) 33.8 mg AT/50.4 IU 225%, Biotin 45 mcg 150%, Folate (Folic acid) 400 mcg 100%
MINERALS: Calcium (Dicalcium phosphate, carbonate) 100 mg, Chromium (Chloride) 100 mcg, Copper (Sulphate) 1000 mcg, Iodine (Potassium iodide) 150 mcg, Magnesium (Oxide) 50 mg, Manganese (Citrate) 5 mg, Molybdenum, (Sodium molybdate) 45 mcg, Selenium (Sodium selenite) 55 mcg, Zinc (Oxide) 7.5 mg
SUPPORTING NUTRIENT: Lutein (Tagetes erecta, flower) 500 mcg, Lycopene 600 mcg. *Recommended Dietary Allowance for adults 65+, regardless of gender, excluding pregnant and breastfeeding women.
Cellulose, modified cellulose gum, vegetable stearic acid, vegetable magnesium stearate, silica, hydroxypropyl cellulose, water-soluble cellulose, titanium dioxide, sodium copper chlorophyllin, Brazilian palm tree wax.
Caution:
May contain fish ingredients.