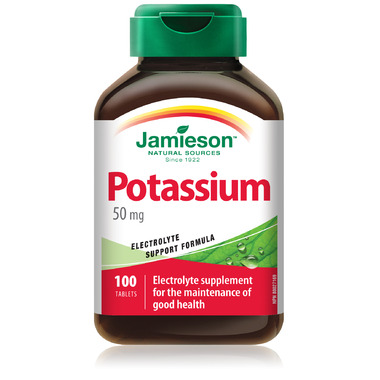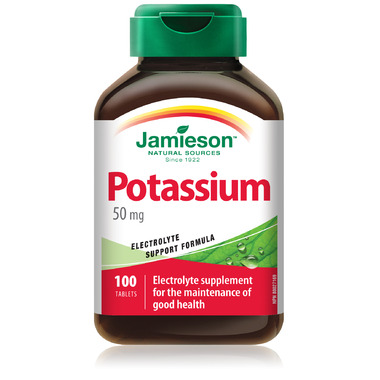 Potassium regulates fluid balance in the body and promotes normal muscle function, including helping to regulate. heart beat. It plays a key role in metabolism and nerve impulse transmission and prevents and treats high blood pressure. Jamieson Laboratories formulates its potassium only with organic gluconate, which is the same form of potassium found in food.

Benefits
• Regulates fluid balance in the body

• Promotes normal muscle function

• Plays a key role in metabolism and nerve impulse transmission

• Helps regulate heartbeat

• Prevents and treats high blood pressure

Ingredient Information
Elemental Potassium 50 mg (from potassium gluconate), Cellulose, Vegetable Magnesium Stearate.


Angela:
more than a year ago
I've been experiencing severe lower leg pain for a couple of years, which has been so bad I've had difficulty walking and extreme pain/discomfort walking both up and down stairs. Doctor's been at a loss after a selective battery of tests and I had prepared myself for a life of chronic pain or having something like fibromyalgia when a naturopathic practitioner suggested I try taking a potassium supplement since it's supposed to help with cramps. Well, words completely fail me, within 2 (yes TWO) days of starting to take one of these daily the pain has disappeared. It's been only about a week and I'm so used to walking carefully it takes me totally by surprise that I am more agile than I have been in ages. I have been warned to still take it easy since if it was indeed due to what she suspects is a result of a low-sodium diet I've been on for many years and inadequate potassium intake, my muscles will need time to adjust as they begin to heal.
1