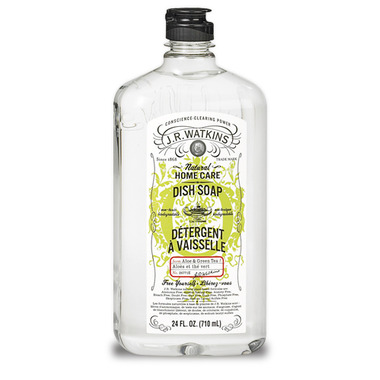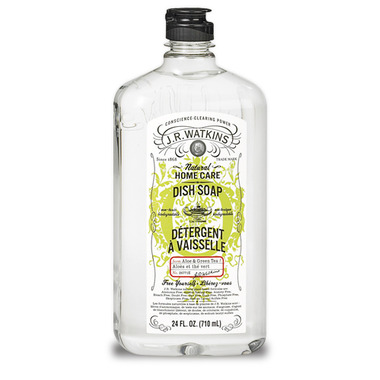 It only takes a small amount of JR Watkins' liquid Dish Soap to create wonderfully scented suds. This natural, earth-friendly formula rinses away and leaves your dishes beautifully clean and perfectly spotless. This dish detergent is tough on grease but easy on hands, your home and the environment because it's free of phosphates, dyes, Sodium Lauryl Sulfate and Cocamide DEA. Plus, the easy-to-use, flip-top cap means no messy drips.

The clean, fresh scent of aloe and green tea refreshes your mood and helps you focus. It's like strolling through a sunny meadow at the first sign of spring.

Ingredients: Water, sodium laureth sulfate (plant-derived surfactant), sodium chloride (salt), cocamidopropyl betaine (plant-derived surfactant), glycerine (humectant), fragrance (contains natural oils), citric acid (food grade), preservative.


Connie:
about a year ago
I quite like this dish soap. Non-drying on hands; subtly scented (like smelling a scented candle while doing dishes...haha...the scent disappears quickly, though and doesn't stick to dishes), and of course, cleans the dishes! I'll keep using this as long as its available to purchase.
Jacki:
more than a year ago
For some reason the aloe and green tea variety of this detergent is much thicker than the grapefruit scent. When I squirt it into the sink, it sort of sinks to the bottom and doesn't make many bubbles on its own - I have to swish the water around with my hand to get it going. And, honestly, I am not crazy about the scent - to me, it's perfume-y and not a kitchen scent. I does work fairly well and does a good job on cutting grease. But when I weigh the pros and cons, and esp. the price, I won't be buying it again.
Page
1