Advil
Junior Strength Advil Chewables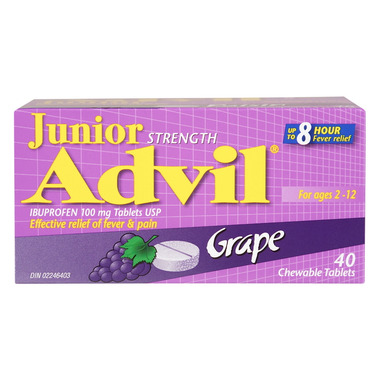 Advil
Junior Strength Advil Chewables
Description
Junior Strength Advil Chewables relieve fever for up to 8 hours, and also relieve pain so your kid can get back to being a kid. These chewable tablets are easy to dose and easy for kids, so you won't be struggling with zipped lips. And they're convenient and portable – no dosing cup required. Ages 2-12.
Uses:
Temporarily reduces fever and relieves minor aches and pain due to: immunization; earache; colds; sore throat.
Active Ingredient:
Ibuprofen 100 mg; Fever reducer/Pain reliever
Phenylketonurics:
Contains phenylalanine 4.2 mg per tablet.
Non-medicinal Ingredients:
Aspartame, cellulose acetate phthalate, D&C red No. 30, FD&C blue No. 2, flavour, gelatin, magnasweet, magnesium stearate, mannitol, microcrystalline cellulose, silicon dioxide, sodium starch glycolate.
Directions:
If possible, weigh your child to calculate the correct dosage; otherwise use your child's age. Doses may be repeated every 6-8 hours while symptoms persist, up to 4 doses a day, or as directed by a doctor. Please read all instructions prior to use.
Caution:
Keep out of reach of children. Consult a doctor if the pain or fever persists for more than 3 days. Do not use if child has kidney or liver disease or is dehydrated (significant fluid loss) due to vomiting, diarrhea or lack of fluid intake. Do not use for stomach pain unless directed by a doctor. Do not exceed the recommended dose unless advised by a doctor.

Warning:
Do not give to children taking acetylsalicylic acid (ASA) or other products containing ibuprofen, or to anyone who has had an allergic reaction (difficulty in breathing, swelling, hives, asthma or shock) after using ASA, other salicylates or anti-inflammatory drugs or any of the listed ingredients. Before use consult a doctor or pharmacist if your child has peptic ulcers, high blood pressure, heart failure, is under a doctor's care for any serious condition, or is taking any other drug. Stop use and call your doctor if:
Your child does not get any relief within 24 hours.
The pain or fever persists for more than three days.
Redness or swelling is present in the painful area.
Sore throat is severe, lasts for more than two days or occurs with fever or headache.
Your child has had side effects (such as abdominal pain, heartburn, nausea or vomiting, bloating, diarrhea or constipation, ringing in the ears, dizziness or any change in vision, fluid retention, itching or skin rashes) from using fever reducers or pain relievers.
In case of overdose, call a physician or poison control centre at once even if there are no symptoms.
Should you require consultation with a pharmacist, you may
contact our Well.ca Pharmacist.
Please read the label, warnings and inserts provided by the manufacturer and consult your healthcare professional when purchasing medications or natural health products to be sure the product is right for you.
Shipping & Returns
Unfortunately, due to the nature of this item, we cannot accept any returns.
We are only able to ship this item to Canadian customers.
This item cannot be shipped to Quebec due to provincial pharmacy regulations.
Click here for more information