Justin's Chocolate Hazelnut Almond Butter
Justin's Chocolate Hazelnut Almond Butter
is rated out of
5
by
10
.

Justin's Chocolate Hazelnut Almond Butter uses only the finest dry roasted nuts and organic chocolate. It is rich, delicious and has half the sugar of the competition!

Ingredients:
Dry Roasted Hazelnuts, Dry Roasted Almonds, Organic Icing Sugar, Organic Cocoa, Organic Cocoa Butter, Modified Palm Oil, Vanilla Powder and Sea Salt.
Contains: hazelnuts May contain: peanuts, other tree nuts, soy.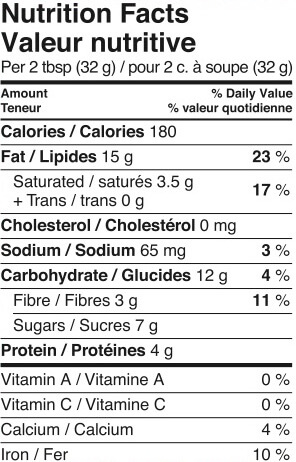 Similar Nut & Seed Butters
Rated

1

out of

5
by
RB
from
CONTAINS PALM OIL
Very disappointing to see that such a natural & pricey product contains Palm Oil. Reminder: The process of harvesting palm oil is responsible for significant destruction of rain forests in South East Asia and threatens the Orangutans and Sumatran tigers that live there. TO BE AVOIDED !
Date published: 2020-04-11
Rated

4

out of

5
by
TheNo1Bet
from
Good Product
This is a nice treat but it can be done yourself with nut butter and cocoa and a sweetener if you need of choice but it's convenient and healthy and yes more expensive than if you did this yourself thus the rating. I myself but this product maybe a couple of times a year or so as a treat. It really is pretty good other than a bit expensive but for convenience sake it's worth it every now and then.
Date published: 2020-03-30
Rated

5

out of

5
by
Brooke_
from
Dream Spread
DREAM spread. I loved chocolate spreads before all my allergies kicked in, but now this has been the best little treat. Amazing on fruit or bread this sweet salty spread is the best quality around. So happy we can purchase in Canada now. Order 3 of these, they surely won't last because they are that good.
Date published: 2020-05-26
Rated

2

out of

5
by
MAC67
from
I was disappointed in this one from Justin's because we love all the other nut butters they produce it is dry and not really having much flavor. Hazelnuts are family favorite and we have tried other natural hazelnut products that are much better and cheaper.
Date published: 2020-04-22
Rated

4

out of

5
by
nutbutterfan
from
Delicious...
This was my first time trying this and it's REALLY good. A nice substitute for Nutella. However the price is too high for the amount you get and I was hoping it would be healthier ingredient wise. A little does go a long way though - enjoy!
Date published: 2020-04-02
Rated

4

out of

5
by
Li564783
from
Delicious!
Finally! A Nutella like spread I can eat (because it's dairy free). It's delicious, sweet but not too sweet, salty but not too salty. Only gave it 4 stars due to the high price of the product. But definitely worth the treat once in a while.
Date published: 2020-01-21
Rated

5

out of

5
by
edinn
from
Yummy
I love this product, it is delicious! There is a little sugar in it but not too much. I put it on many things including breads and fruits. Great chocolate flavour!
Date published: 2020-07-17
Rated

1

out of

5
by
Mm
from
Texture isn't for me
I love Justin's almond butter, but this was nothing like The almond butter. The texture was like playdough and not very spreadable. Couldn't finish the container.
Date published: 2021-02-12