Kiinde Foodii Starter Kit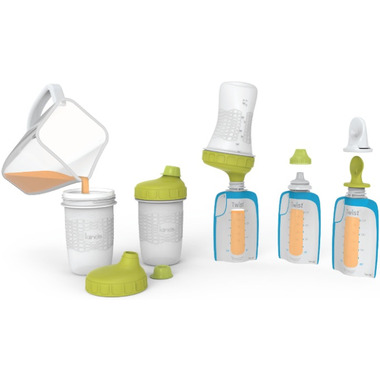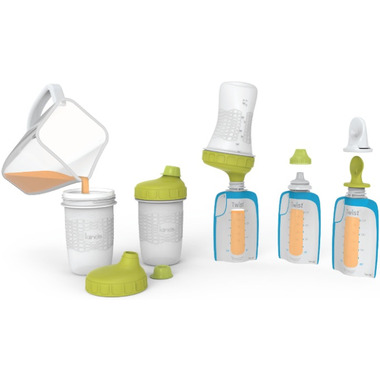 Kiinde Foodii Starter Kit
The Foodii™ Squeeze Snack™ Filling and Feeding System allows you to fill Kiinde Twist Pouches™ or Foodii Pouches™ with pureed food, for mess-free meals on the go!
This Foodii Squeeze Snack Starter Kit contains:
10 Foodii™ Squeeze Snack™ Pouches
1 Foodii Filler squeezable filler for mess-free filling of Twist Pouches with pureed food. Includes cap.
2 Snack Spouts™ with leak-proof caps, for mess-free self-feeding, directly from Twist Pouches
1 Squeeze Spoon™ with leak-proof cap, for mess-free feeding, directly from Twist Pouches
Puree your own healthy baby meals using your blender, pour into the wide-mouthed Foodii Filler, then squeeze the Filler to fill Twist Pouches™ or Foodii™ Pouches with healthy, nutritious snacks, mess-free!
Multiple feeding options are available for feeding directly from the pouches - ergonomically designed Snack Spouts™, or soft silicone Squeeze Spoons™. Both are designed to promote mess-free self-feeding, and have leak-proof caps. The Squeeze Snack Filler is simple, compact, and easy to clean. It has no moving parts, and is about as large as a large drinking glass. The Filler can be used to store pureed food in your fridge, too!
All components of the Foodii and Twist feeding systems are BPA, PVC, latex, and pthalate-free. Squeeze Snacks help to eliminate messes and dirty dishes - pouches can be discarded (recycled!) after use. Snack Spouts™ and Squeeze Spoons™ can be re-used for future feedings, and are dishwasher, steam, and microwave safe.