koena Probiotics Adult Extra Strength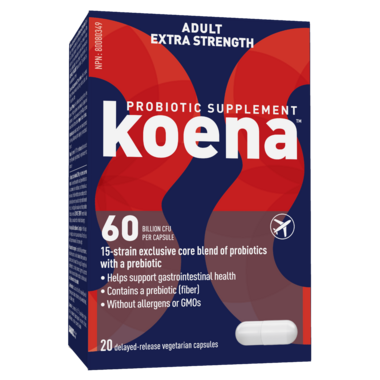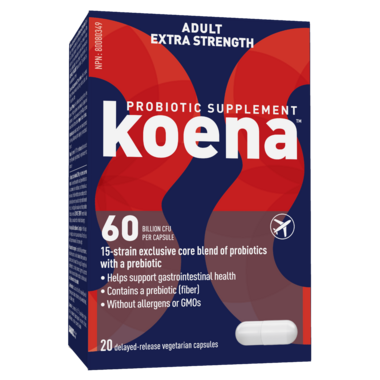 koena Probiotics Adult Extra Strength
Please be advised that Well.ca follows manufacturer guidelines for storing & shipping probiotics.
Adult Extra Strength features 60 billion CFU per capsule to support intestinal/gastrointestinal health. Beyond helping to support gastrointestinal health, it helps to promote a favorable gut flora and could help you feel healthy. The extra strength core formulation features select blend of probiotic strains aiding in protection in critical moments, and includes a prebiotic (fiber) for optimal activation in the gastrointestinal tract.
No refrigeration needed.

Dosage: Adults, adolescents 12 years and over - Take 1 oral capsule daily at any time, with or without a meal. If taking antiobiotics, take at least 2-3 hours before or after.
Ingredients:

Medicinal ingredients: Probiotic blend and prebiotic (fiber): Bifidobacterium animalis subsp. lactis, Bifidobacterium bifidum, Bifidobacterium breve, Bifidobacterium longum subsp. infantis, Bifidobacterium longum subsp. longum, Lactobacillus acidophilus, Lactobacillus brevis, Lactobacillus casei, Lactobacillus gasseri, Lactobacillus paracasei, Lactobacillus plantarum, Lactobacillus reuteri, Lactobacillus rhamnosus, Lactobacillus salivarius, Lactococcus lactis, Xylooligosaccharides

Nonmedicinal ingredients (Alphabetically): Inulin, Magnesium Stearate, Rice Maltodextrin, Silicon Dioxide, Vegetarian Capsule (Gellan Gum, Hypromellose, Titanium Dioxide, Water)
WARNING: Consult a healthcare practitioner prior to use if you have fever, vomiting, bloody diarrhea or severe abdominal pain. If symptoms of digestive upset (e.g. diarrhea) occur, worsen, or persist beyond 3 days, discontinue use and consult a healthcare practitioner. Keep out of reach of children. Do not use this product if you have an immune-compromised condition (e.g. AIDS, lymphoma, patients undergoing long-term corticosteroid treatment).