Lake & Oak Tea Co. Chaga Coconut Chai Tea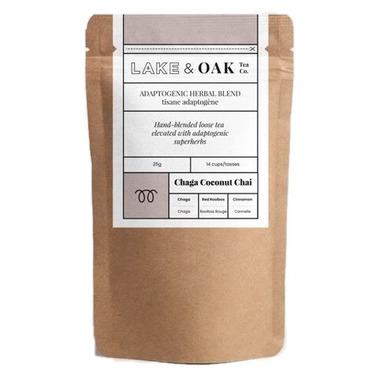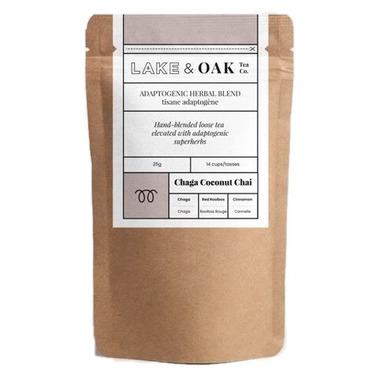 Lake & Oak Tea Co. Chaga Coconut Chai Tea
Warming spices & naturally sweet herbs make this feel-good chai an addictive afternoon sipper. Ginger and tulsi sneak in some serious happy belly benefits, with a hint of mushroom magic from chaga - the free radical warrior of our time.
Tasting notes: exotic spices with a gentle sweetness from cinnamon and coconut
CHAGA MUSHROOM
combats free radicals and supports cellular regeneration
TULSI
supports the body's abiliy to manage stress
GINGER
anti-inflammatory + digestive support
Directions: Try steeping 1 tbsp of Chaga Coconut Chai in 1 cup of coconut milk for a rich, nourishing latte-style drink!

Ingredients: Organic Red Rooibos, Chaga, Organic Cinnamon, Organic Ginger, Organic Tulsi, Black Peppercorns, Organic Cardamom, Organic Coconut Chips