Lalma
Lalma Great Figure Tea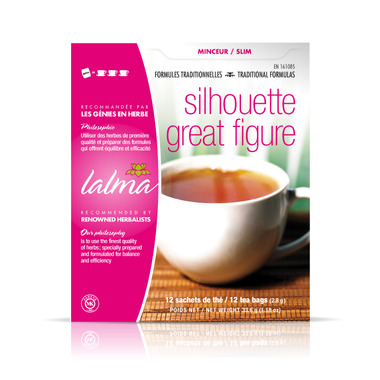 Lalma
Lalma Great Figure Tea
Description
Lalma Great Figure herbal tea is for individuals who want to lose weight slowly and gently. To be used in programs that recommend less caloric intake and more physical activity to help balance weight.
Directions: Steep tea bag in 250 mL of boiled water for 1-3 minutes. Drink 1-3 cups a day.

Medicinal Ingredients (per tea bag): Organic green tea 1500mg, whorled mallow 1200mg, organic parsley 100mg.
Warnings and Risk Information: Consult a health care practitioner prior to use if you have a liver disorder, if you develop symptoms of liver trouble (such as abdominal pain, dark urine, or jaundice), if you have an iron deficiency, if you're pregnant and/or breastfeeding.
Do not use if you have a heart, kidney, or liver problems, or if you suffer from high or low blood pressure, diabetes, or edema (swelling of hands, feet or face) and/or if you take products containing diuretics. Stop using and consult a health care practitioner immediately in case of dizziness, confusion, muscle ache or weakness, irregular heart action and/or breathing difficulty.
Highlights

Shipping & Returns