Lalma Pleasant Dreams Herbal Tea
by Virage Sante
12 Tea Pouches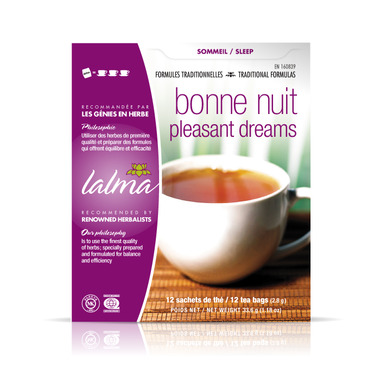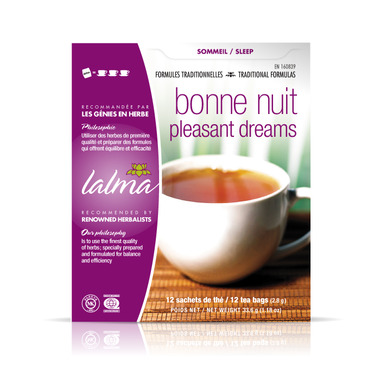 Lalma Pleasant Dreams Herbal Tea
by Virage Sante
12 Tea Pouches
Lalma Pleasant Dreams Herbal Tea is perfect for individuals seeking a peaceful night's sleep. Passion flower, lemon balm, Valerian and wild linden all work together to make your nights a paradise.
Ingredients (per tea bag): Organic passionflower, organic lemon balm, organic linden, organic Valerian, organic orange oil.
Directions: Seep a 2.8 g tea bag in 3 cups (750 ml) of boiled water for 1-5 minutes. Drink 1-3 cups a day. 1 tea pouch = 3 cups of tea.
Warnings and Risk Information: This beverage is not a medication. Certain plants may not be appropriate for children, pregnant women or people using a lot of medication or for people with intestinal problems. Consult your health practitioner before using.