Land Art
Land Art Aloe Vera Gel
Cranberry Flavour 1500 mL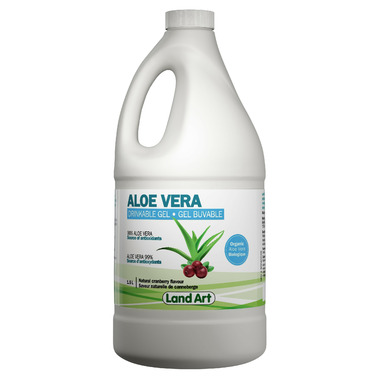 Cranberry Flavour
1500 mL
---
Description
Aloe vera is one of the marvels of nature possessing numerous medicinal qualities. This plant has been known and used by Egyptians and Greeks for centuries BC. Taken daily, aloe vera supplies the human body with amino acids, enzymes, minerals and vitamins.
Health Benefits:
Stimulates digestive functions
Acts as gentle intestinal regulator
Soothes stomach burns and flatulence
Acts efficiently in cases of colitis and diverticulitis
Helps soothing pain related to hemorrhoids
Reduces chronic constipation
Effective against sunburns and burns
Land Art Aloe Vera Gel contains no dairy, wheat, gluten, yeast or corn. This 99% pure gel is also free of sugar and glycerol. This drinkable gel is cranberry flavoured.
Directions:
Take 1 to 2 tablespoon (15 to 30 ml) as is or mix it in a juice or a smoothie. Refrigerate after opening.

Ingredients:
Aloe gel (purified water, concentrated organic aloe juice OTCO certified, xanthan gum), citric acid, natural cranberry flavor, ascorbic acid (vitamin C), potassium sorbate, sodium benzoate.
Contains no dairy, wheat, gluten, yeast or corn.
Highlights

Shipping & Returns