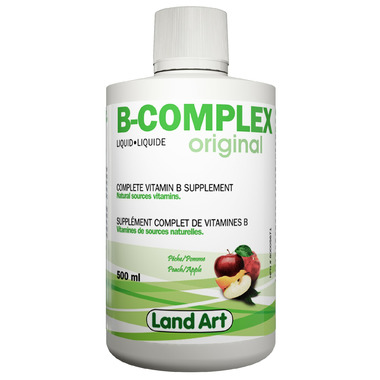 Description
Group B vitamins are essential to good nervous system health. Unique because of its liquid form and its optimal concentrations, B-Complex from Land Art is more effective and more easily absorbed than other forms of vitamin B.
Your nervous system uses more vitamin B during stressful periods, often resulting in a deficiency for many people. If you are stressed, think about taking a Vitamin B supplement.
Health Benefits:
Help balance nervous system
Helps the body to metabolize nutrients like fats, carbohydrates and proteins
Directions:
Children (1-8 years old): 1 teaspoon (5 ml) per day. Adolescents (9-18 years old): 2 teaspoons (10 ml) per day. Adult: 1 tablespoon (15 ml) daily.
Medicinal Ingredients (per 15 mL):
Vitamin B1 (Thiamine hydrochloride) ... 45 mg
Vitamin B2 (Riboflavin) ... 36 mg
Vitamin B3 (Niacinamide) ... 30 mg
Vitamin B5 - Pantothenic acid (Calcium pantothenate) ... 82 mg
Vitamin B6 (Pyridoxine hydrochloride) ... 27 mg
Vitamin B12 (Cyanocobalamin) ... 78 mcg
Vitamin C (Ascorbic acid) ... 9 mg
Biotin ... 90 mcg
Folic acid (Folate) ... 720 mcg
Non-Medicinal Ingredients:
Purified water, concentrated apple juice, natural peach flavour, citric acid, xanthan gum, sodium benzoate, potassium sorbate. Contains no dairy, wheat, gluten, yeast or corn.
Highlights

Shipping & Returns