LeapFrog LeapStart Preschool & Pre-Kindergarten Interactive Learning System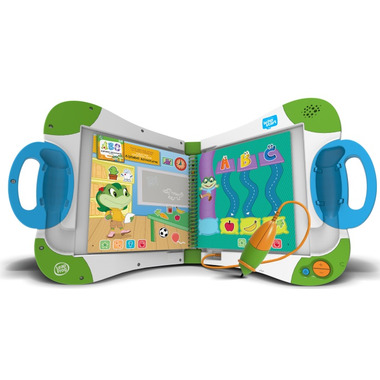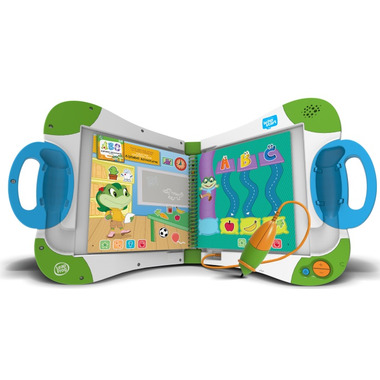 LeapFrog LeapStart Preschool & Pre-Kindergarten Interactive Learning System
Tap into big fun with the amazing, all-in-one LeapStart interactive early learning system for Preschool and Pre-Kindergarten, jam-packed with key school and life skills for curious 2-4 year olds. The system works with a library of replayable activity books (sold separately) and comes with a Preschool and Pre-Kindergarten sampler book. Using the easy-grip stylus, kids can tap any page to activate audio responses and play activities designed to keep them engaged and coming back for more. Each book in the library is packed with over 30 activities. Games, jokes and songs come to life, enticing kids to trace numbers, hunt for letters, compose their own music and so much more. Each learning level teaches 50+ key skills. Requires two AA batteries, not included. Additional activity books are sold separately.
Includes:
LeapFrog Interactive Learning System Preschool and Pre-Kindergarten
Preschool and Pre-Kindergarten Sample Book
Parent Handbook
Parent Guide
Quick Start Guide
USB cable
Features:
The LeapStart interactive learning system is designed to help build key skills and challenge kids to get ready for their next step in learning.
Progress from Preschool to 1st Grade with 16 activity books that all work on LeapStart.
The magic behind LeapStart is a stylus that reads invisible dots on every page triggering engaging audio like questions, challenges, songs, jokes and more to teach school and life skills in new, exciting ways.
Each activity book seamlessly blends school and life skills, like ABCs and music, for a more comprehensive introduction to key concepts.
Suitable for ages 2-4 years.

Madison:
a few months ago
I read a lot of reviews on this before purchasing for my sons 3rd birthday. I was skeptical of whether or not it would be one of the toys that he plays with once. This wasn't the case! We bought 2 of the books that go along with it. We sit down after dinner and play with it together and he LOVES it. I can already see that it is going to help teach him letter recognition. Each book has many pages and it takes time to play on each one so the books will last. They are worth their high price. Ex: We play for about 30 minutes each night and only make it through about 4 pages until he has lost interest so we stop. But that 30 mins is quality time spent LEARNING! I can see that we will be able to go through each book many times.

4 Star rating is only because I wish the cord on the stylus was a bit longer and less chunky I also am nervous that it will stop working properly before we have outgrown it because toddlers like to yank on the stylus/cord that's attached.
Page
1