LIVA Raw Date Sugar
is rated out of
5
by
15
.



LIVA raw organic dissolvable date sugar contains only two ingredients. The first is dehydrated ground Deglet Noor dates and all of the whole food goodness they contain. The second is love. Life is a little sweeter with LIVA.
Features:
Certified Organic
Non-GMO Project Verified
Gluten Free
Vegan
Source of Fiber
Certified Kosher
Ingredients: Organic date powder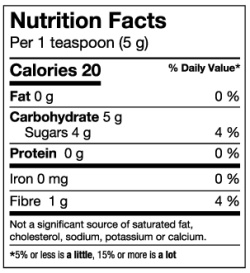 Rated

5

out of

5
by
DesireRadiantHealth
from
Delicious and most incredible natural sweetener
"I had never known Date Sugar existed until Liva Foods offered it! It adds incredible sweetness (with a hint of caramel flavour) without making you feel awful after! I love that I can substitute it 1:1 in recipes. As a Holistic Nutritionist, I appreciate that it is simply raw dehyrated dates, low glycemic, doesn't spike insulin, rich in vitamins and minerals, and is high vibrational food ❤ I made a raw carrot ginger cookie recipe with it and also vegan banana bread with it! Both turned out delicious!" - Olivia, CNP Desire Radiant Health
Date published: 2020-05-03
Rated

5

out of

5
by
Soulfeastkatie
from
My go to sweetener
This is my favourite sweetener as it tastes amazing and does not spike your blood sugar. I love making chocolate chip cookies, chocolate avocado or coconut pudding. My favourite dessert is mixing it with coconut yogurt - you can add fruit or chocolate chips... so so good. Pretty much whatever you're making that needs more sweetness, you can add this to & the taste is divine.
Date published: 2020-03-04
Rated

5

out of

5
by
Rafi
from
Finall the healthy SUGAR
First of all I want to thank you LiVA for such a wonderful product. It's so cool. For years I wanted to eat regular sugar but i was avoiding it. From now on I dont need to avoid. My coffee. My smoothie, cakes can have this tasteful sugar.
Date published: 2020-05-01
Rated

5

out of

5
by
Jennifer
from
Fantastic!
I was introduced to Liva date sugar through an online cooking workshop with Soul Feast Katie. The cuisines were absolutely delicious and because it has a low glycemic index, it was guilt free treats and then some. I use the Liva date sugar in replacement of the other and I feel so much better using this product for my friends and family by knowing that we can enjoy our favourite foods with a product that is good for our body.
Date published: 2020-05-01
Rated

5

out of

5
by
NicoleT
from
Love love love date sugar!
I was introduced to this amazing product by Katie Christie and I'm so glad I was! The perfect sweetness, texture and low GI. I have been using this for baking, in dressings, on top of yogurt and in smoothies. My favourite sugar substitute that satisfies my sweet tooth without negative effects on my body. LOVE LOVE LOVE. Will buy again and again and again. <3
Date published: 2020-05-11
Rated

5

out of

5
by
SelenaMoon
from
Had a delicious flavor
The first time I went on a date with date sugar was in Katie's "goddess of nature" kitchen. She had poured her love into raw carrot energy balls sweetened with date sugar. I was pleasantly surprised by the taste and recommend using it for baking to anyone whose looking for a delicious sweetness alternative.
Date published: 2020-05-02
Rated

5

out of

5
by
Maxie
from
Never going back to any other sugar!
Not only are the health benefits top-notch, the taste of Liva's raw date sugar is delicious! Naturally sweet with rich flavour, you'll never go back to regular sugar. Take this as your warning!
Date published: 2020-05-17
Rated

5

out of

5
by
themoodcurator
from
Date sugar is like cocaine, but without the addiction
The date sugar is magic sprinkles. For one, it's exactly as described. I get the sweetness, but don't get addicted to it. Date sugar is like cocaine, but without the addiction.
Date published: 2020-05-01