Lorna Vanderhaeghe Digestsmart For Digestive Health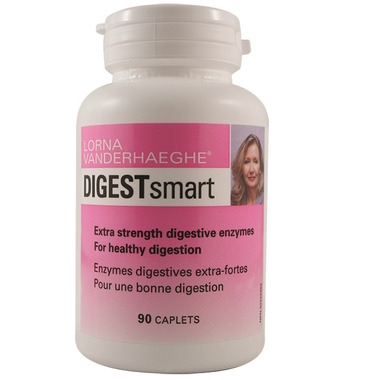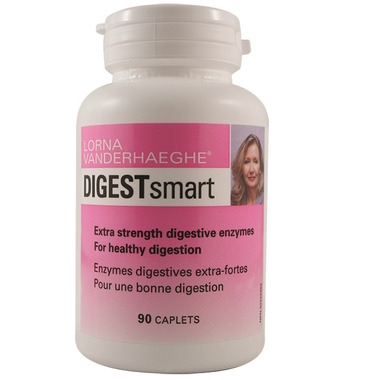 Lorna Vanderhaeghe Digestsmart For Digestive Health
When we are younger, digestive enzymes break down the food we eat into proteins, fats, and carbohydrates which provide nutrition for the body. But as we age the body's digestive abilities start to deteriorate, leading to gas, bloating, food that is not broken down properly, nutritional deficiencies, and inflammatory conditions like irritable bowel syndrome.
Fortunately, enzyme supplements like DIGESTsmart by Lorna Vanderhaeghe make it possible to enhance digestive health.
Each digestive enzyme helps to break down different types of food:
Amylase: Digests carbohydrates
Lipase: Digests fats
Cellulase: Breaks down fiber
Lactase: Digests milk sugar (lactose) in dairy products
Bromelain and Papain: Digests proteins
Features & Benefits:
Facilitates proper digestion
Reduces gas
Reduces bloating
Improves absorption of nutrients
Eliminates heartburn due to inadequate digestion
Reduces adverse food reactions
Controls some food allergies
Directions: One caplet with each meal or as directed by a health practitioner.
If you have overeaten take an additional tablet after the meal.
Each caplet contains:

For Carbohydrate Digestion:
Alpha-Amylase (Aspergillus oryzae, whole/entire). . 50 mg/1,500 FCC DU
Cellulase (Trichoderma longibrachiatum, whole/entire). . 15 mg/300 FCC CU
Lactase (Aspergillus niger, whole/entire). . 30 mg/30.75 FCC ALU
For Protein Digestion:
Bromelain/Bromélaïne (Ananas comosus, stem/tige). . 30 mg/7,200FCC MCU
Papain/Papaïne (Carica papaya, fruit). . 50 mg/900,000 FCC PU
For Lipid Digestion:
Lipase (Aspergillus niger, whole/entire). . 30 mg/32 FCC LU
DU (Dextrinizing Unit), CU (Cellulase Unit), ALU (Acid Lactase Unit), MCU (Milk Clotting Units), PU (Papain Unit), LU (Lipase Unit), USP (U.S. Pharmacopeia).

Non-medicinal ingredients:
Cellulose, dialcium phosphate, modified cellulose gum, vegetable magnesium stearate, peppermint leaf extract, sillica, riboflavin, fennel seed extract, alcium gluconate.
Consult a health care practitioner if you: are pregnant, breastfeeding, a diabetic, have stomach ulcers, having surgery, taking blood thinners, anti-inflammatory, antibiotics, or have ongoing digestive complaints; have an allergy to avocado, banana, chestnut, fruit, fig, melon, mango, kiwi, pineapple, peach and tomatoe
This product does not contain artificial preservatives, colours or sweeteners; no gluten, soy, dairy, GMO, wheat or yeast.