Lorna Vanderhaeghe ESTROsmart
Lorna Vanderhaeghe ESTROsmart
is rated out of
5
by
4
.


All women need hormone balancing therapy, but especially women with endometriosis, fibrocystic breasts, perimenopause, acne, PMS, uterine fibroids, and/or obesity and weight problems.
ESTROsmart contains a combination of Calcium D-glucarate, Indole-3-carbinol (I3C), Green Tea Extract, Curcumin, Diindolylmethane (DIM), Rosemary Extract and Sulforaphane to help maintain a healthy estrogen-to-progesterone balance.
Features:
Maintains healthy estrogen-to-progesterone balance
Halts the conversion of good estrogens to bad estrogens
Helps reduce cramping, heavy periods and mood swings
Prevents hormonal acne
Good for those with PCOS and ovarian cysts
Vegan-friendly, Non-GMO, dairy-free, soy-free and gluten-free
Suggested Usage: Take 2–4 capsules daily with food for balanced hormones, or as directed by a health care practitioner.

Each Two Capsules Contains: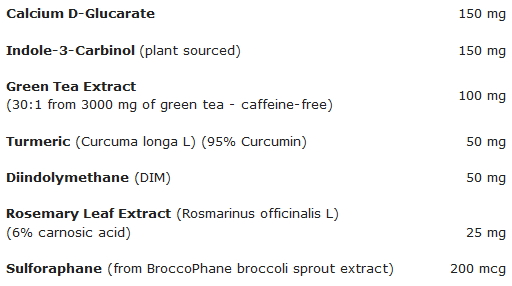 This product does not contain irradiated rice flour, artificial preservatives, colours or sweeteners, dairy, soy, wheat or yeast. VEGAN-FRIENDLY. GLUTEN-FREE.
Cautions: Consult a healthcare practitioner prior to use if you have a family history of medical conditions, are attempting to conceive, are taking any medications such as antiplatelets, blood thinners, hormone-containing medications (including birth control pills), have gallstones, stomach ulcers, excess stomach acid, a liver disorder, or if you develop symptoms of iron deficiency. Discontinue use and consult a healthcare practitioner if you experience irregular menstruation, joint pain, hot flashes, and/or if you develop liver related symptoms such as jaundice, yellowing of the skin/eyes, stomach pain, dark urine, sweating, nausea, unusual tiredness and/or loss of appetite. Rare, unpredictable cases of liver injury associated with green tea extract-containing products have been reported (in Canada and internationally). Do not take if you are pregnant, breastfeeding or have a bile duct obstruction. Keep out of reach of children.

Rated

2

out of

5
by
Nikki
from
Lose/Lose
After researching for months on the best supplements to try to help with my hormonal imbalance I decided to try these. I tracked everything for a month + and while it did help with my acne flare ups around my cycle, I started having terrible insomnia. The green tea is supposed to be caffeine free but there is still trace amounts of caffeine and it really causes a lot of issues. I do not know why the green tea has to be an ingredient anyways so it is very disappointing.
Date published: 2020-05-28
Rated

5

out of

5
by
Pinkroses
from
Amazing product
I have used this for years. It really helps to balance my hormones and periods. Helps alot with menopausal symptoms as well. I cannot live with out these vitamins. A true God send to women.
Date published: 2020-04-18
Rated

1

out of

5
by
Et
from
Made my acne worse
Great for breast pain but makes my hormonal acne much worse. I have gone off and on a few times just to be sure.
Date published: 2020-01-22
Rated

5

out of

5
by
Pinkroses
from
Amazing product
This is a miracle for me going through menopause. I am never without it. Balances my hormones and my periods are not as painful or heavy as they used to be. I have been using for at least 3 years now.
Date published: 2020-03-25