Lorna Vanderhaeghe IRONsmart Liquid
Caramel Flavour
500 mL (Approximately 100 Servings)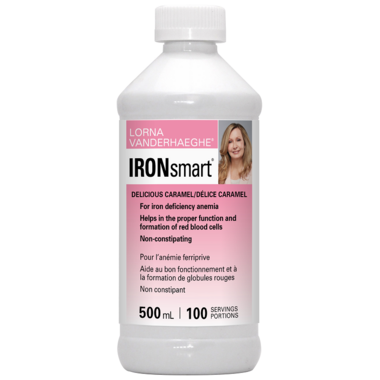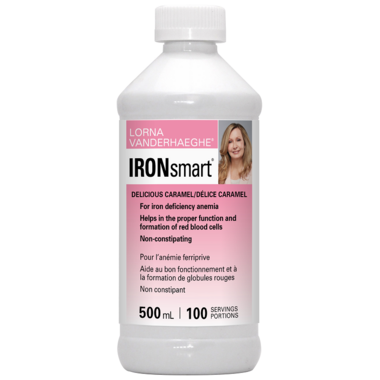 Lorna Vanderhaeghe IRONsmart Liquid
Caramel Flavour
500 mL (Approximately 100 Servings)
Women are more susceptible to iron deficiency anemia due to blood loss during their monthly cycles. Yet over 57% of women do not get adequate levels of iron from their diet. Women require up to 20 mg of iron daily from food, but most get less than 10 mg per day from food and often it is poorly absorbed. Simply taking 10 mg per day of elemental iron per day will solve this.
The body must work harder to access iron in coated tablets that contain binders and fillers. Liquids are easy to digest and absorb. When iron is not absorbed, any leftovers destined for eventual elimination can irritate the intestinal walls and cause pain, cramping, diarrhea, constipation and black stools. However, due to its revolutionary delivery system, IRONsmart iron does not cause the stomach upset and constipation associated with other iron supplements.
Features:
Maximum absorption-raises hemoglobin and ferritin fast
Raises hemoglobin and ferritin fast
No stomach upset, diarrhea, nausea or other digestive symptoms
Non-constipating
Can be taken with your multivitamin with minerals as it does not interact with other ingredients
For children, the elderly, athletes - everyone
Suggested Usage: Adults (12 and older) take 1-3 tsp (5-15 mL) daily with food. Children (4-11 years) take 1 tsp (5 mL) daily with food.

Adult females:
>19 years old take 2 tsp (10 mL)
Daily Breastfeeding 1 tsp (5 mL) daily
Pregnancy: 3 tsp (15 mL) daily
>50 years old: 1 tsp (5 mL) daily

Shake Well and refrigerate after opening.
Each Teaspoon (5mL) Contains:

Iron (Iron Pyrophosphate, Liposomal Iron) (Elemental) ....................... 10 mg

Non-medicinal Ingredients:
Water, organic agave syrup, sodium, cellulose, lecithin liposome, caramel, potassium sorbate, sodium benzoate.
This product does not contain artificial colours; no corn, dairy, gluten, GMO, soy, wheat or yeast.


Caution:
Keep out of reach of children. There is enough iron in this bottle to seriously harm a child.