Made in Nature Organic Figgy Pops Cranberry Pistachio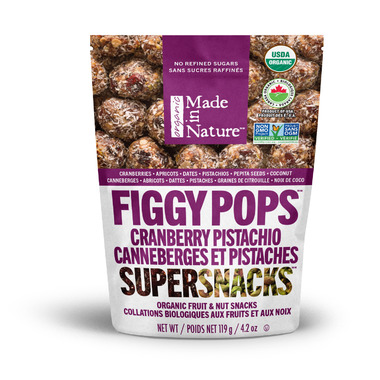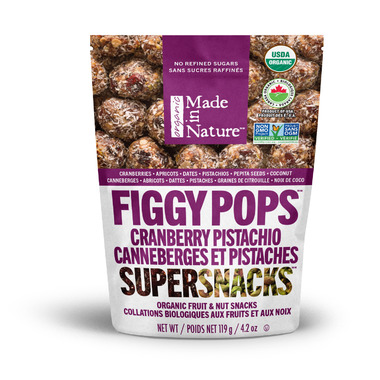 Made in Nature Organic Figgy Pops Cranberry Pistachio
You ever tasted something and felt like it was literally made for your mouth? As if your unique taste buds and those curiously combined flavors were destined to meet and ride off together into the satisfaction sunset? Well, fate has struck again to create the serendipitous snack that is these power-packed Cranberry Pistachio Figgy Pops.

From tart cranberries and sun-dried apricots to crunchy pistachios and sweet coconut, these supersnacks are bona fide fuel for life. They're energizing. They're filling. They're your soon-to-be, meant-to-be snacking fascination.
Features:
Certified Organic and Non GMO
No refined sugars
Ingredients: Organic Apricots, Organic Dates, Organic Cranberries (Organic Cranberries, Organic Apple Juice Concentrate, Organic Sunflower Oil), Organic Pepita Seeds, Organic Pistachios, Organic Coconut, Organic Sunflower Seeds, Organic Figs, Organic Cocnut Oil, Organic Cinnamon, Sea Salt, Organic Chia Seeds, Organic Ginger, Sesame Seeds.
Contains: Pistachios, Coconut May contain tree nuts