MadeGood Apple Cinnamon Organic Granola Minis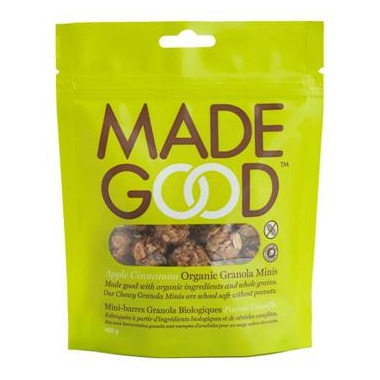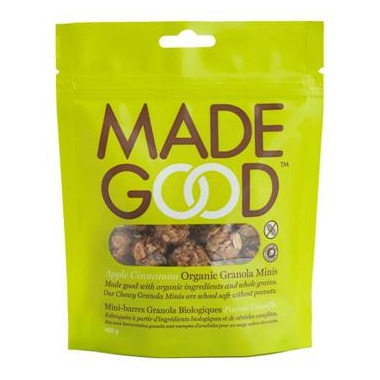 MadeGood Apple Cinnamon Organic Granola Minis
Toasted oats, sweet apples and spicy cinnamon. These wholesome granola minis taste just like home made apple pie. They'll leave you feeling full and happy on the inside.
Feel good about choosing Apple Cinnamon. Whole grains are an essential part of a healthy diet. These bars contain oat bran, believed to lower LDL, "bad cholesterol". They're also slow to digest, keeping you fuller longer. All MadeGood ingredients are ethically sourced.
Features:
Peanut Free
One full serving of veggies per bar
Certified Organic
Certified Vegan
Kosher
Non-GMO Project Verified
Allergy Friendly

MadeGood Granola Minis are peanut free, organic and contain the nutrients of one full serving of vegetables from six different sources. They're also made from whole grains and are non–GMO verified. Granola Minis are the portable, pop-able snack packed with nutrition and flavour. These wholesome bites make the perfect afternoon pick-me-up at school or on the go.
Ingredients:
Rolled oats*, agave nectar*, brown rice syrup*, raisins*, apples*, coconut oil*, sunflower oil*, whole grain crisp brown rice*, agave inulin*, cinnamon*, vegetable powder (spinach, broccoli, carrots, tomatoes, beets, shiitake mushrooms), natural mixed tocopherols, rosemary extract*. *Organic