MadeGood Light Granola Cocoa Crunch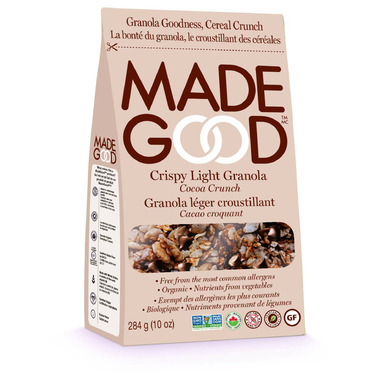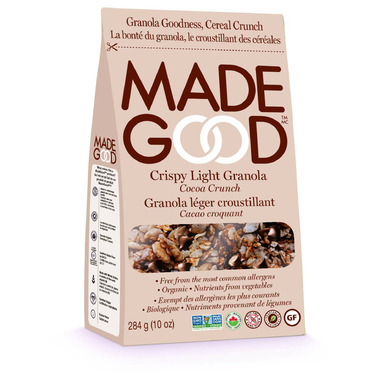 MadeGood Light Granola Cocoa Crunch
A light and crispy granola, perfect for topping yogurts, adding into cereal, eating with your favorite milk, dressing up some coconut ice cream or eating straight from the bag. You're limited only by your imagination. This snack is so delicious, you'd never guess they're are servings of veggies hiding inside! Add in the fact that it's Organic, Gluten Free, Vegan, and Tree Nut Free and what's not to love?
Free from the top 7 common allergies (Peanuts, Tree nuts, Soy, Sesame, Wheat, Fish/Shellfish. and Dairy), so the whole family can enjoy.
Features:
Certified Organic and Non GMO
Gluten Free
Peanut and Tree Nut Free
Certified Vegan
Kosher
Ingredients:
Pure Gluten Free Oats*, Crisp Brown Rice*, Cane Sugar Syrup*, Chocolate*(Cane Sugar*, Cocoa Mass*, Cocoa Butter*), Sunflower Oil*, Natural Flavour*,Sea Salt, Vegetable Extracts (spinach, broccoli, carrots, tomatoes, beets, shiitake mushrooms). *Organic.