Marpac
Marpac Hushh Portable Sound Machine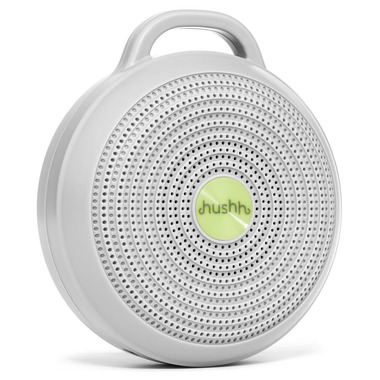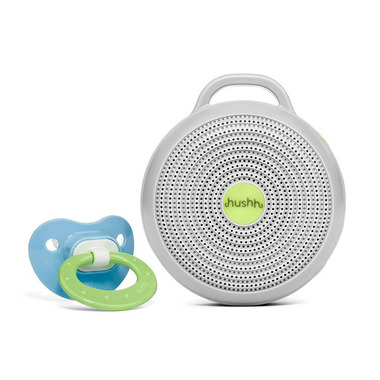 Marpac
Marpac Hushh Portable Sound Machine
Marpac Hushh Portable Sound Machine
is rated out of
5
by
7
.
---
Description
From Marpac, makers of the beloved Dohm Natural White Noise Machine, comes Hushh, a portable electronic sound machine designed to help baby fall asleep and stay asleep anywhere.
The Hushh cradles your baby in soothing sound to create a comforting, consistent sound environment for sleep. This compact portable unit comes with 3 sound options: choose from bright white noise, deep white noise, or gentle surf and a wide volume range.
Hushh is powered by a lithium ion battery and recharges from a micro-usb cord (included). Throughout nighttime or naptime, it masks disruptive noises to promote longer, more restful sleep cycles.
Features:

Masks noise - cancel out noises that might disturb or distract, for improved sleep and concentration
3 sound options - bright white noise, deep white noise and gentle surf
Portable & rechargeable - compact size and convenient USB charging (USB cable included)
Child lock and LED nightlight - baby-friendly features
Guarantee - backed by a one-year limited factory warranty and the always exceptional Marpac customer service promise
Product Dimensions:
3.75"W x 3.5"L x 1.75"H
Rated

2

out of

5
by
Hatilloyd
from
Great until it's not
I understand the positive reviews from people who have just purchased this but the buttons stopped working pretty soon after we bought it which just got progressively worse. It would turn itself up to full volume spontaneously and the button to change the sound stopped working. Now having had it for 16 months we're still using it but never know if it's going to turn off, change volume etc. Pretty expensive for something so flimsy.
Date published: 2021-12-31
Rated

1

out of

5
by
Mel C
from
Good until not
I bought two of these machines from Well.ca about two months apart. Both are great - until they're not. The one gets randomly stuck in the on position and although Yogasleep support gave me a solution - to just let it run out of batteries and then recharge - this is a pain and inevitably it comes back again. The other machine just didn't turn on one day and I had to submit for a warranty exchange, which is a pain because I'm now out a machine for some time. I do not recommend due to the unreliability, despite these being great little sound machines.
Date published: 2022-01-23
Rated

5

out of

5
by
Pamela
from
This is a great product. I like the deep white noise - less of a high pitch and sounds more relaxing. Both my kids sleep with one of these and they travel so easily and will run all night with a single charge.
Date published: 2018-12-27
Rated

5

out of

5
by
Michael
from
Great - high quality white noise, super light, and comes with a little clasp so you can hang it off things (stroller, car seat, carrier etc).
Date published: 2019-01-07
Rated

5

out of

5
by
Meghan
from
We had the owl sound machine which was ok when our baby was a newborn but the quality and sound level was not great. I wanted less of a high pitch yet a louder noise and this does the trick! Noticed a difference from the first time we used it - less wake ups and it helped her go down faster. I think she finds it more relaxing and it drowns put more background noise. Recommend!
Date published: 2019-11-14
Rated

5

out of

5
by
Keester
from
Small and Mighty
This sound machine is just the right size and the volume of sound it produces belies its size. With three sound options, the preferred sound for our newborn is the deep white noise. It's been perfect for keeping her from hearing noise in the rest of the house in the evening when she's been put down for bed.
Date published: 2021-04-18
Rated

5

out of

5
by
Anita
from
Absolutely love this little sound machine! We use it on the car or to help our daughter nap in her stroller on the go.
Date published: 2019-10-16