Mate Factor Yerba Mate Organic Earl Green Tea
20 Unbleached Tea Bags / 70 g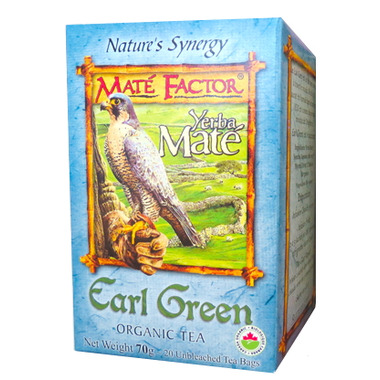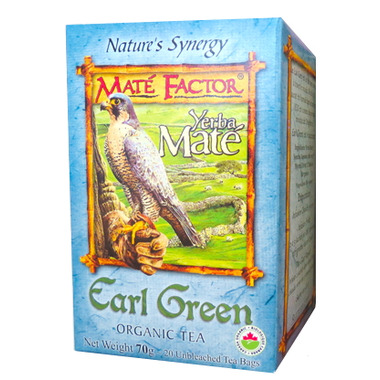 Mate Factor Yerba Mate Organic Earl Green Tea
20 Unbleached Tea Bags / 70 g
European explorers first learned of Yerba Mate in 1592 from the native tribes. Today, the pounded leaves of the caá, known as "erva mate" to those who now live in the lands of the Guarani, are used to brew a rich, stimulating tea, held to be synonymous with health, vitality and a long life.

The energizing effects of Yerba Maté are longer lasting than traditional caffeine beverages, and are found by most to be free from side effects such as, the jitters, mood swings, addiction, and post stimulation fatigue. The bottom line is, Yerba Maté gives you energy that really feels good.

Yerba Maté is more than just an invigorating brew. It is one of nature's best sources of antioxidants. In addition, a full complement of vitamins and minerals (including chlorophyll, vitamins A, B, C, E, magnesium, potassium, iron, pantothenic acid, and much more) help make a cup of Maté tea an excellent immune-boosting brew.

Mate Factor Yerba Mate Earl Green Tea is a rich flavoured, deep and satisfying blend. Earl Grey is a highly celebrated tea around the world. It is said to have been formulated in the 1830's for the second Earl Great, Prime Minister of England. Earl Green is its protégé.

Ingredients: Yerba Maté*, Japanese Sencha*, Lemon Myrtle*, Oil of Bergamot. *Organic Ingredients


Red:
about a year ago
Delicious, light and energizing - great as your first morning cuppa, or as an afternoon boost. I've loved Earl Grey tea for years, but sometimes found the black tea blend too strong - with this blend, I can leave the bag in my mug and it doesn't get too strong and bitter. I'm so glad I discovered this one - I love all of the Mate Factor teas!
Linda:
more than a year ago
I read about Yerba Mate tea in a magazine and I wanted to give it a try so when I found it on Well.ca I decided to order a box. I wanted to try something different, it claims to have energizing effects, not sure about that but I do enjoy the flavor, not too strong but satisfying. I would order it again, great for an afternoon pick-me-up...
1