MegaFood MegaFlora for Women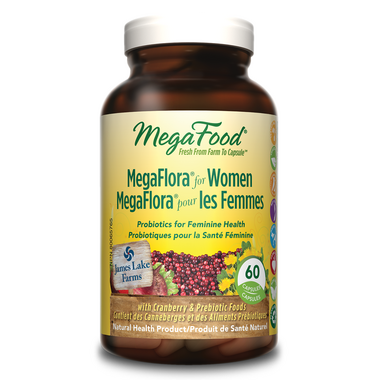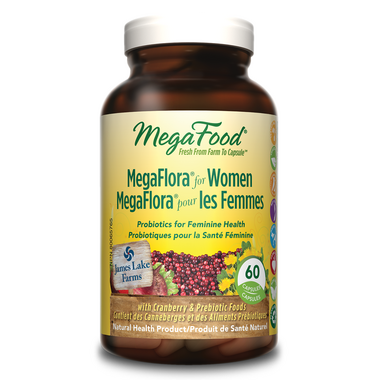 MegaFood MegaFlora for Women
MegaFood MegaFlora for Women supports vaginal and urinary tract health with cranberry and prebiotic foods.
Features:
50 Billion active cultures of beneficial probiotics per serving
MegaFlora probiotic blend plus additional Lactobacillus rhamnosus (HN001) and Lactobacillus rhamnosus (LP115), strains clinically studied to maintain vaginal and urinary tract health
Signature MegaFlora blend of 14 probiotics support digestive balance and immune health
500 mg Farm Fresh FoodState Cranberry delivers a punch of PACs (proanthocyanidins), fruit compounds known to support urinary tract health
FoodState Prebiotic Food Blend promotes the growth of good bacteria
Gentle for everyday use
Recommended Use:
Take two (2) capsules daily or as otherwise directed by a health care practitioner.
Ingredients:
FoodState Cranberry 250mg, FoodState Prebiotic Blend 150mg (50mg Beet Root, 50mg Burdock Root, 50mg Dandelion Root), Women's Healthy Microbiome 15 Billion CFU, Original MegaFlora Blend 10 Billion CFU (Bifidobacterium lactis, Lactobacillus acidophilus, Lactobacillus casei, Lactobacillus plantarum, Lactobacillus rhamnosus, Lactobacillus salivarius, Lactobacillus brevis, Lactobacillus bulgaricus, Lactobacillus gasseri, Lactococcus lactis, Bifidobacterium longum, Bifidobacterium bifidum, Bifidobacterium infantis, Streptococcus thermophilus)
Non-medicinal Ingredients:
cellulose, silica, L-leucine.
Caution:
If you are on antibiotics, take at least 2-3 hours before or after.
N
atural, Non-GMO, Soy Free, Dairy Free, Gluten Free, Peanut Free Facility, Tree Nut Free Facility, Kosher

Please be advised that Well.ca follows manufacturer guidelines for storing & shipping probiotics. This product will be shipped with an ice-pack to maintain product efficacy.