MegaFood Turmeric Strength for Joint Inflammation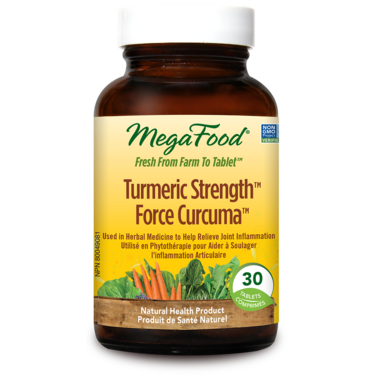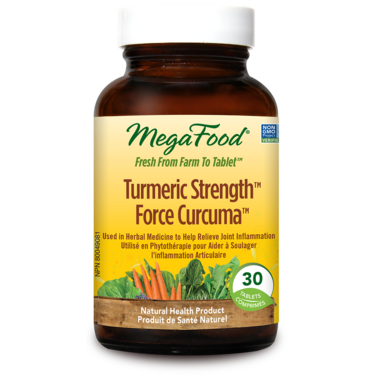 MegaFood Turmeric Strength for Joint Inflammation
MegaFood Turmeric Strength is a natural herbal supplement to help relieve joint inflammation.
This MegaFood supplement features Turmeric Strength's Proprietary Blend of FoodState Kauai Organic Turmeric Root with a pure Turmeric Extract (95% curcumin) to deliver a guaranteed min level of 481 mg curcumin per serving plus the synergistic benefit of also delivering a full spectrum of curcuminoids.
It is also formulated with berries and cherries deliver an array of deeply pigmented antioxidants to support healthy again. Plus BioPerine supports proper assimilation of turmeric, curcuminoid compounds and other nutrients.
Suggested Use: Two tablets daily. May be taken any time throughout the day, even on an empty stomach

Medicinal Ingredients:
Whole Body Wellness Herbal Blend (250 mg Turmeric Root Extract (95% curcumin), 100 mg Sacred Basil Leaf Extract (4:1), 50 mg Organic Whole Turmeric Root, 1.5 mg BioPerine Black Pepper Extract (95% piperine)), Protective Garden Harvest Fruit Blend (50 mg Black Cherry Extract (10:1), 37.5 mg Black Raspberry Extract (4:1), 37.5 mg Cranberry Extract (25:1), 37.5 mg Wild Blueberry, 12.5 mg FoodState Farm Fresh Fruit Blend (organic orange, organic cranberry, organic blueberry)), Vitamin C (organic orange)
Non-medicinal ingredients:
Vegetable Lubricant, Silica and Plant Cellulose (protective coating).
FoodState Nutrients™ are made with fresh and local foods. Crafted with MegaFood's Slo-Food Process™, they deliver the most authentic nourishment available, which MegaFoods believes the body recognizes as 100% whole food.
Natural, Non-GMO, Gluten Free, Sugar Free, Peanut Free Facility, Tree Nut Free Facility, Kosher, Vegetarian, Dairy Free





Laurie:
more than a year ago
I love, love, love this brand and all the good things in these pills, especially that they are the rare turmeric pill that has black pepper in there for optimal absorption. They obviously know what they're doing. They are to be swallowed, but I like the tangy flavour, so I end up sucking on them for a bit before swallowing, lol! I try to put turmeric on many foods, so I'm getting used to the flavour, as I didn't grow up with this spice in anything ma prepared.
Page
1