Minami Nutrition PlusEPA Mind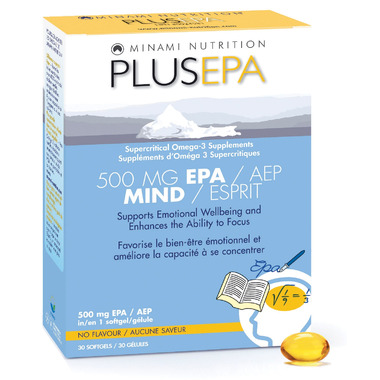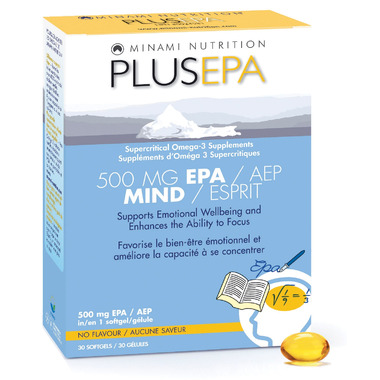 Minami Nutrition PlusEPA Mind
Minami Nutrition Plus EPA is for those who recognize the benefits of a pure EPA formula, specifically for cognitive function and mood.
Features:
527 mg Total Omega-3s
95% Omega-3
500 mg EPA Concentration
0 mg DHA
90% EPA Concentration
Recommended Use:
Source of EPA for the maintenance of good health.
Directions:
Adolescents (9 to 18 years) and adults, take 1 softgel daily or as recommended by a healthcare practitioner.
Medicinal Ingredients (per softgel):
Fish Oil (from mackerel,sardine, anchovy)(body) ... 527 mg
Providing: Non-Medicinal Ingredients:
Vitamin E, gelatin, purified water, glycerol, rosemary extract.
Supplement Facts (per softgel):
Calories 6 .......................................................... % Daily Value
Total Fat 0.55 g............................................................... 0.8%
Saturated fat / Gras saturés 0 mg .............................. 0%
Cholesterol 0 mg ............................................................ 0%
Total Carbohydrate 0.1 g ................................................ 0%
Total Protein 0.15 g ....................................................... 0.3%
Omega-3 Polyunsaturated Fat .................................527 mg
EPA ................................................................................ 500 mg
DHA............................................................................... 0 mg
Other Omega-3 Fatty Acids ..................................... 27 mg
Omega-6 Polyunsaturated Fat ................................. 10 mg
Tocopherol-rich extract (Vitamin E) 9 mg ................. 66%