Natren Digesta-Lac (Lactose Intolerance)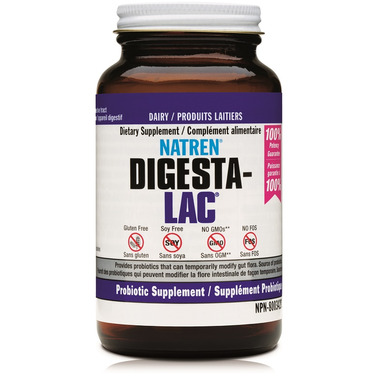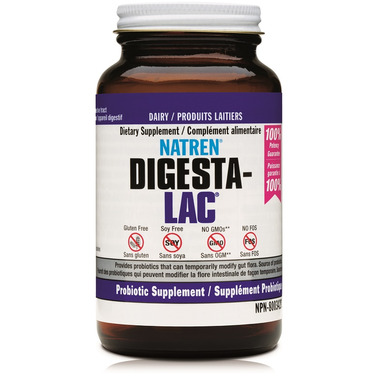 Natren Digesta-Lac (Lactose Intolerance)
This item is a final sale item. Returns cannot be accepted.
Natren's Digesta-Lac®is an innovative probiotic supplement that improves on run-of-the-mill, less potent probiotic products by keeping the live bacteria in their original culturing medium, or supernatant. Natren Digesta-Lac® probiotic powder can help relieve occasional gas, irregularity and indigestion. Don't let poor digestion restrict your diet -- enjoy eating again! Good digestive health lets you eat, drink and be happy.

Digesta-Lac is step 3 in Natren's 1-2-3 Probiotic System.

Features & Benefits:
Supports digestion of carbohydrates and proteins
Optimized digestion
Provides a slightly acidic environment necessary for intestinal health
Growth of beneficial bacteria, L. acidophilus and B. bifidum
Digestion of dairy products by assisting with lactose metabolism
Natren's Lactobacillus bulgaricus LB-51 super strain is a transient beneficial bacteria that travels through the digestive tract with food through the process of digestion. Each serving of Digesta-Lac® provides a minimum of 2 billion colony forming units (cfu) of Lactobacillus bulgaricus LB-51 transient super strain.
A note about dairy based probiotics:
Dairy milk is one of the original foods that these bacteria thrive on, which is why they are called Lacto bacilli, meaning milk bacteria. Ayurveda, a Hindu system of traditional medicine used in India for over 5000 years, is devoted to using dairy products, as milk is considered the pure love of the cow for her calf. Ayurvedic doctors and pharmacists highly recommend dairy products to their patients. Natren is one of the few custom probiotic manufacturers to still use dairy as a growth medium for beneficial bacteria.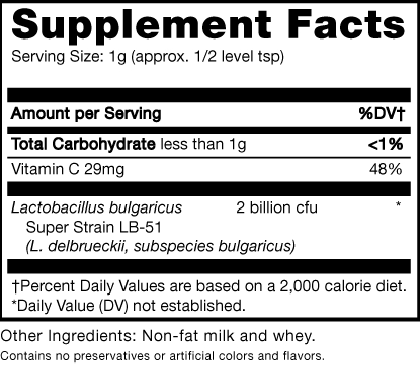 Keep refrigerated for maximum potency.