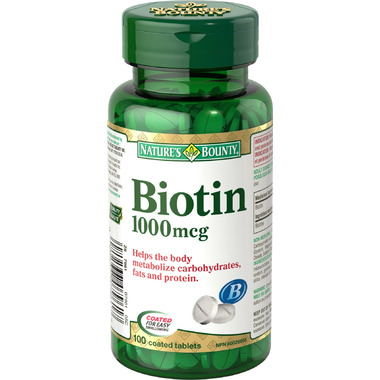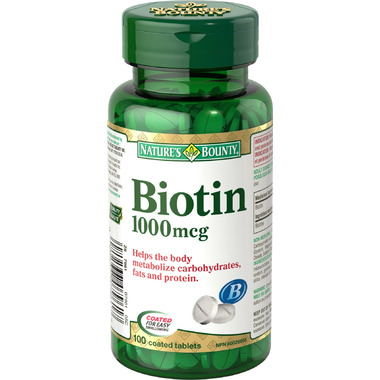 Nature's Bounty Biotin
1000 mcg
100 Coated Tablets
Biotin, a type of Vitamin B, is a component of the enzymes that break down carbohydrates, fats, proteins, and amino acids.

Biotin is also used in the body to help convert carbohydrates (food) into glucose (fuel), which is used to produce energy and support a strong energy metabolism. Biotin also helps maintain healthy skin, hair and nails.

Adult Dosage (Oral): Adults, take one (1) tablet per day.

Medicinal Ingredients (Each Tablet Contains): Biotin - 1000 mcg

Non-Medical Ingredients: Calcium Phosphate Dibasic, Carboxymethyl-cellulose, Carnauba Wax, Croscarmellose Sodium, Glycerin, Magnesium Stearate, Microcrystalline Cellulose, Silicon Dioxide, Sodium Citrate Dihydrate.