Nature's Way Alive! Men's 50+ MultiVitamin & Full B Complex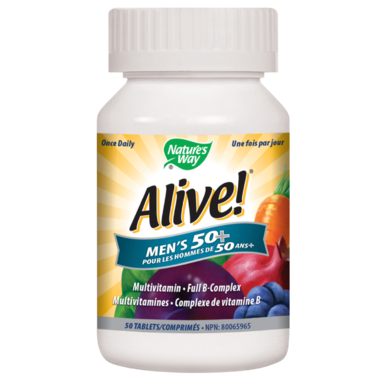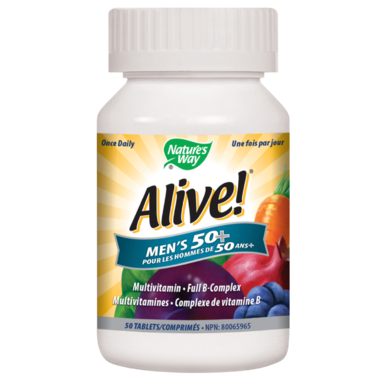 Nature's Way Alive! Men's 50+ MultiVitamin & Full B Complex
Feel alive with Alive! multivitamins. Alive! multivitamins for Men 50+ is a complete formula designed specifically for men over 50 including a full B-complex. Alive! multivitamins for Men 50+ helps to maintain eyesight, immune function, and supports a healthy metabolism. Plus it's in an easy-to-take once daily tablet.
Features:
A complete multivitamin specifically formulated for Men 50 and over
Helps in the maintenance and support of skin and bones.
Supports immune function and helps the body metabolize carbohydrates, fats and proteins
Full B-complex and an easy-to-take once daily tablet
Directions: Adults take 1 tablet daily. Take a few hours before or after taking other medications. Take with food.
Ingredients:

Calcium (Calcium carbonate) 200 mg
Vitamin C (Ascorbic acid) 120 mg
Magnesium (Magnesium oxide) 100 mg
Niacin (Vitamin B3) (Niacinamide) 30 mg
Vitamin E (dl-alpha tocopheryl acetate) (60 IU/UI)
Zinc (Zinc oxide) 26.25 mg
Pantothenic Acid (d-calcium pantothenate) 15 mg
Vitamin B6 (Pyridoxine hydrochloride 6 mg
Vitamin B1 (Thiamin mononitrate) 4.5 mg
Manganese (Manganese sulfate) 4 mg
Vitamin B2 (Riboflavin) 3.4 mg
Copper (Copper sulfate) 2 mg
Vitamin A (Vitamin A acetate) (3500 IU/UI) 1035.71 mcg
Beta-carotene (1,500 IU/UI) 900 mcg
Lycopene 600 mcg
Folate (Folic acid) 400 mcg
Biotin (Vitamin B7) 300 mcg
Lutein (Marigold extract [flower]) 300 mcg
Boron (Sodium borate) 150 mcg
Iodine (Potassium iodide) 150 mcg
Selenium (Sodium selenate) 122.5 mcg
Vitamin B12 (Cyanocobalamin) 100 mcg
Vitamin K1 (Phytonadione) 80 mcg
Molybdenum (Sodium molybdate) 75 mcg
Vitamin D3 (Cholecalciferol) (800 IU/UI) 20 mcg
Microcrystalline cellulose, fruit and vegetable blend, croscarmellose sodium, stearic acid, hypromellose, magnesium stearate, polydextrose, silica, titanium dioxide, talc, medium chain triglycerides.
Consult a health care practitioner prior to use if you are taking blood thinners. Contra-indications: Do not take if you have an allergy to Asteraceae/Compositae (daisy) family.
Natural, Peanut Free Product, Tree Nut Free Product