Nature's Way Primadophilus Optima Max Bifido
90 Billion Active Probiotics
30 Capsules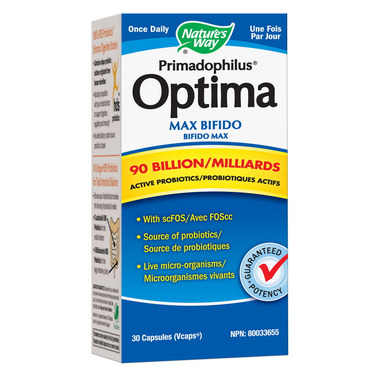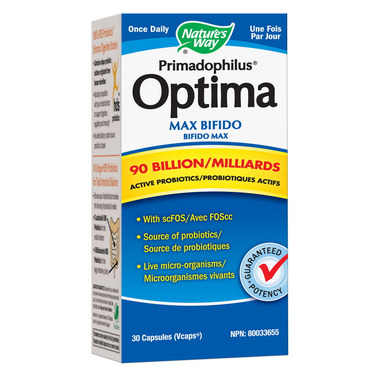 Nature's Way Primadophilus Optima Max Bifido
90 Billion Active Probiotics
30 Capsules
- We're sorry, this product is no longer available!
- Shop for other products in: Probiotics

Nature's Way Primadophilus Optima Max Bifido provides 90 billion CFUs of a 10-strain blend of probiotics specifically for adults. This blend has a higher potency of bifidobacteria for colon health and helps to replenish bifidobacteria levels that decline with age.
Nature's Way Primadophilus brand is backed by an unparalleled True Guarantee that ensures consistent purity, potency and intestinal delivery. This 3 part guarantee includes:
True Potency: The potency of CFUs claimed on the label is fully guaranteed until expiration, not just at time of manufacture.
True Release: Every Primadophilus capsule is specially coated to ensure optimal survival in stomach acid and proper release into the intestine.
True Identity: Only the probiotic strains listed on the label make their way into a Primadophilus product.
Directions:
Adults: Take one capsule per day. If you are taking antibiotics, take capsule 2 or 3 hours before or after the antibiotics.
Medicinal Ingredients (per capsule):
Lactobacillus casei HA-108 ... 29.7 billion CFU
Lactobacillus acidophilus HA-122 ... 0.225 billion CFU
Lactobacillus paracasei HA-196 ... 9 billion CFU
Lactobacillus rhamnosus HA-111 ... 5.625 billion CFU
Lactobacillus rhamnosus HA-114 ... 0.225 billion CFU
Lactobacillus salivarius HA-118 ... 0.225 billion CFU
Bifidobacterium bifidum HA-132 ... 0.675 billion CFU
Bifidobacterium breve HA-129 ... 40.5 billion CFU
Bifidobacterium longum subsp. infantis HA-116 ... 0.225 billion CFU
Bifidobacterium longum subsp. longum HA-135 ... 3.6 billion CFU
Other Ingredients:
Ascorbic acid, oleic acid, stearic acid, sodium alginate, purified water, ethylcellulose, fructooligosaccharides**, ammonium hydroxide, hydroxypropylmethylcellulose, skim milk, macrogol, trypticase-soy broth, silicon dioxide, magnesium stearate, sucrose, medium chain triglycerides. **NutraFlora®
Warning:
Consult a health care practitioner prior to use if you have nausea, fever, vomiting, bloody diarrhoea or severe abdominal pain. Discontinue use and consult a health care practitioner if symptoms of digestive upset (e.g. diarrhoea) occur, worsen, or persist beyond 3 days.

Contra-Indications:
Do not use if you have an immune-compromised condition (e.g. Aids, lymphoma, patients undergoing long-term corticosteroid treatment).
Notes:
CFU = Colony Forming Units. NutraFlora® is a registered trademark of GTC Nutrition. To retain maximum potency, keep refrigerated after opening.
Please be advised that Well.ca follows manufacturer guidelines for storing & shipping probiotics. This product will be shipped with an ice-pack to maintain product efficacy.