Colour Not Shown
Colour Not Shown
Colour Not Shown
Colour Not Shown
Colour Not Shown
Colour Not Shown
Colour Not Shown
Colour Not Shown
Colour Not Shown
Colour Not Shown
Colour Not Shown
Colour Not Shown
Colour Not Shown
Colour Not Shown
Colour Not Shown
Colour Not Shown
Colour Not Shown
Naturtint is a new colouring concept that brings your hair maximum shine and colour and lets your hair maintain its vibrant colour for up to 5 weeks. Its exclusive formulation contains active plant-based ingredients that protect hair fibers and restore shine and vitality. Covers 100% of grey and can lighten up to 2 shades at a time.
Naturtint is free from ammonia and resorcinol and does not contain parabens, silicones, paraffin, mineral oils, heavy metals, artificial fragrances, SLS, or formaldehyde derivatives.
Ingredients
: Naturtint: PEG-2 Oleamine, Purified Water, Cocamide Dea, Alcohol Denat, Propylene Glycol, Ethanolamine, Oleic Acid, Sodium Sulfite, Tetrasodium EDTA, Hydrolyzed Vegetable Protein, Sodium Erythorbate, p-Phenylenediamine, 2-Methylresorcinol, 4-Chlororesoricinol, m-Aminophenol, 2-amino, 4-hydroxyethylaminoanisole sulfate. Colour Developer: Purified Water, Hydrogen Peroxide, Cetyl Alcohol, Cetearyl Alcohol, Laureth-3, Ceteareth-20, Oxyquinoline Sulfate. NutriDeep Multiplier: Purified Water, Cetearyl Alcohol, Behentrimonium Methosulfate, Glycerin, Hydrolyzed Wheat Protein, Sunflower Flower Extract, Linseed Seed Extract, Lemon Fruit Water, Ceteareth-20, Cetyl Alcohol, Glyceryl Stearate, Ceteth-20, Steareth-20, Citric Acid, Sodium Benzoate, Potassium Sorbate, Fragrance, d-Limonene. Shampoo: Purified Water, Sodium Cocoamphoacetate, Glycerin, Lauryl Glucoside, Disodium Cocoyl Glutamate, Sodium Lauryl Glucose Carboxylate, Cocamidopropyl Betaine, Cocamide Dea, Decyl Glucoside, Linseed Extract, Polygylceryl-4 Disostearate/Polyhydroxystearate/Sebacate, Sodium Benzoate, Potassium Sorbate, Eucalyptus Globulus Oil, Rosemary Oil, Citric Acid, Sodium Chloride.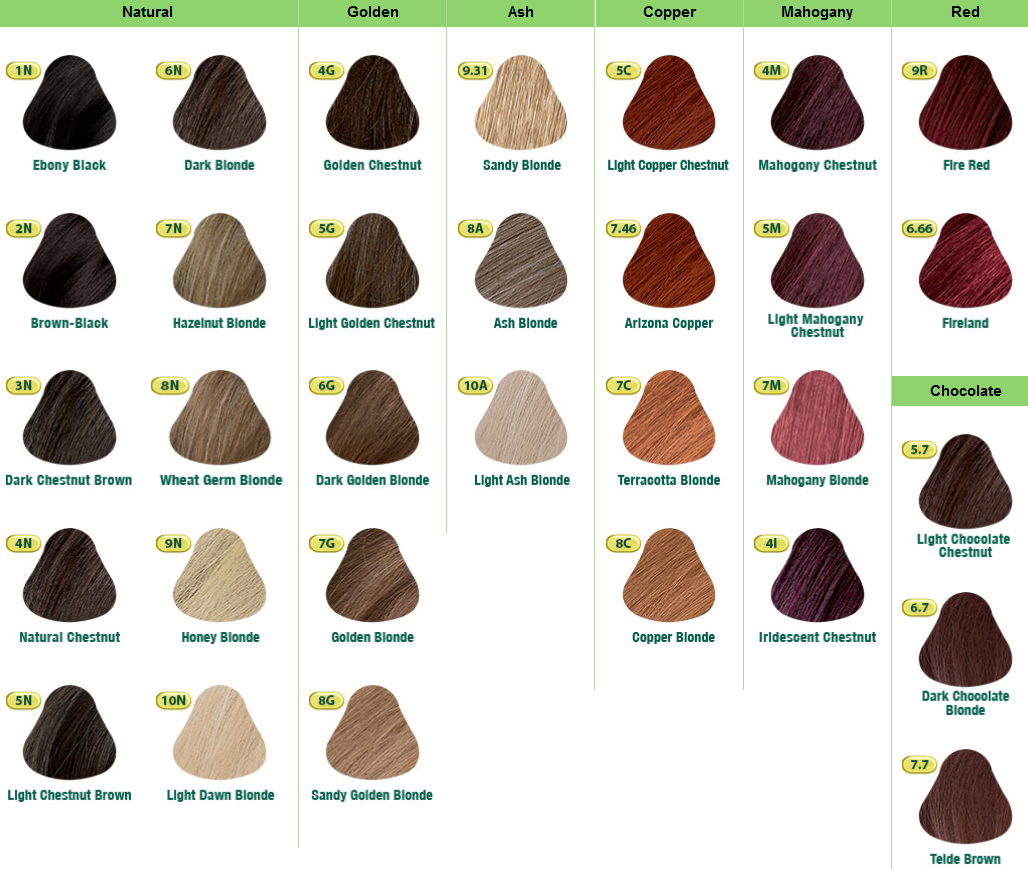 Rated

5

out of

5
by
Jo
from
The colour lasts quite well and covers grey hair. It is not as harsh as the last ammonia based colour I used. I will definitely repurchase it.
Date published: 2019-09-02
Rated

5

out of

5
by
Dana
from
Easy to use, no harsh chemical smell. Covers grey well. Definitely worth the price and will purchase again
Date published: 2019-10-10
Rated

5

out of

5
by
Mariette
from
It's my first time I try this hair dye. It has no smell. I like it and I will buy it again
Date published: 2018-02-21
Rated

4

out of

5
by
Emily
from
I have used Naturtint Hair Dye for years.
I like thst there is no amonia in this formula and it covers grey hairs nicely. One thing I do find though is that it seems to really dry out my hair and then I can't get a hairbrush through it easily even after using the conditioner included. It takes almost a month for my hair to feel normal afterwards. I have used this brand for at least 10 years and I find they tend to dye your hair darker at first snd then the hair color tends to lighten up after about 4 weeks I find.
Date published: 2021-04-29
Rated

5

out of

5
by
L
from
Just what I have been looking for!
Great colour intensity, leaves the hair soft and doesn't have the chemical quality of most dyes.
Date published: 2020-08-26
Rated

5

out of

5
by
Susan
from
Great product! Love that it's all natural and no chemical smell
Date published: 2019-08-19
Rated

5

out of

5
by
Alia
from
Great grey coverage
My favorite go to color on hand. Covers grey really well.
Date published: 2021-07-07
Rated

5

out of

5
by
Claudia
from
Naturtint
Excellent product, I was not sure about without ammoniac tint but I'm really surprise because this product cover greys and is capable to light Many tones my natural dark hair.
Date published: 2021-09-06