Naturvet ArthriSoothe Joint Care Gold Tablets
Stage 3 Joint Care
240 Chewable Tablets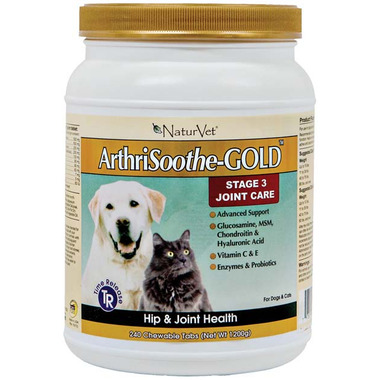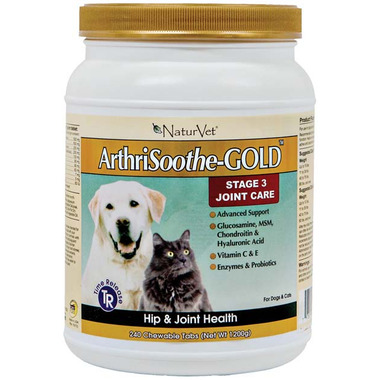 Naturvet ArthriSoothe Joint Care Gold Tablets
Stage 3 Joint Care
240 Chewable Tablets
Naturvet ArthriSoothe Gold Tablets are used to help support healthy hip and joint function in your cat or dog. After years of walks, runs, and general mayhem our four legged friends start to ache and get stiff. Use these Naturvet Arthrisoothe Gold Tablets to help maintain joint flexibility and alleviate aches associated with daily exercise.

Active Ingredients (Per 5 g Tablet): Glucosamine HCl (Shellfish Source) (500 mg), Methylsulfonylmethane (MSM) (500 mg), Chondroitin Sulfate (Porcine Source) (200 mg), Green Lipped Mussel (Perna Canaliculus) (200 mg), Enzymes Blend (130 mg), Boswellia Serrata (90 mg), Yucca Schidigera (90 mg), Calcium Ascorbate (Vitamin C) (60 mg), Zinc (7 mg), Hyaluronic Acid (5 mg), and dl-Alpha Tocopheryl (Vitamin E) (60 IU). *Ingredients are time released.

Inactive Ingredients: Dicalcium Phosphate, Dried Whey, Magnesium Stearate, Maltodextrins, Microcrystalline Cellulose, Natural Coloring, Natural Flavoring, Non-Fat Dry Milk, Silica Aerogel, Stearic Acid and Vegetable Oil.

Always follow the instructions on the label of this item.
Deb:
more than a year ago
Over the holidays I was told by customer service that these were discontinued. They work well and are one of the few brands with green lipped mussel powder. They work very well for dogs with arthritis, or who have had joint surgery. Thanks for keeping these in stock! I have three dogs who need these and we need a large supply.
NNLL:
more than a year ago
We have large dogs (Scotch Collie mix, Great Pyrenees, Newfoundland mix) at ages of 12, 17 and 19! We've been using this supplement for a few years now, and it has made a huge difference in their mobility. Our vet is amazed at the ages of our large dog, and how well they moving.
Page
1