Naturvet Tear Stain Plus Lutein Soft Chews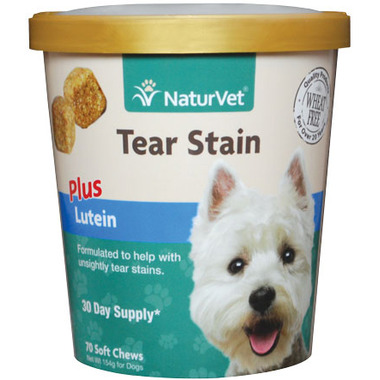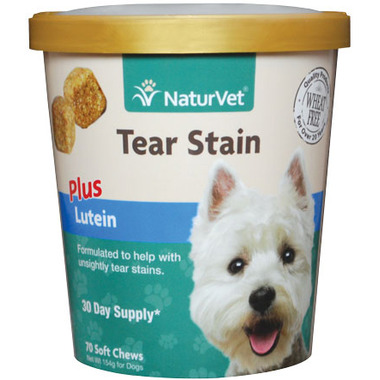 Naturvet Tear Stain Plus Lutein Soft Chews
Naturvet Tear Stain Plus Lutein Soft Chews contain antioxidants to help maintain your dogs immune system. These soft chews lubricate mucous membranes to help with unsightly tear stains too!

Active Ingredients (Per 1 Soft Chews): Cranberry Extract (105 mg), Oregon Grape Root (34 mg), Vitamin C (Calcium Ascorbate) (34 mg), Marshmallow Root (23 mg), Linolenic Acid Omega-3 (Flaxseed) (10 mg), Lutein (2.5 mg), and Linoleic Acid Omega-6 (Flaxseed) (2.4 mg).

Inactive Ingredients: Brewers Dried Yeast, Canola Oil, Citric Acid, Deionized Water, Glycerine, Lecithin, Natural Flavoring, Natural Mixed Tocopherols, Potato Starch, Rosemary, Sorbic Acid, Tapioca Starch, and Vegetable Oil.

For use in dogs over the age of 12 weeks only! Always follow the instructions attached to the label of this product!

Laura:
more than a year ago
A friend recommended this product for eliminating tear stains on little white dog's eyes. I sent the product information to my vet to check the ingredients and I received the go ahead. It took about two months of using the product for us to see a noticeable difference. I am happy to say that the staining has decreased drastically and is almost nonexistent at this point. I'm extremely happy with this product and my little Jack Russell terrier enjoys the daily treat.
Page
1