Navitas Naturals Organic Cacao Sweet Nibs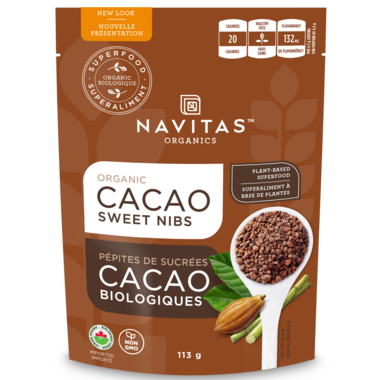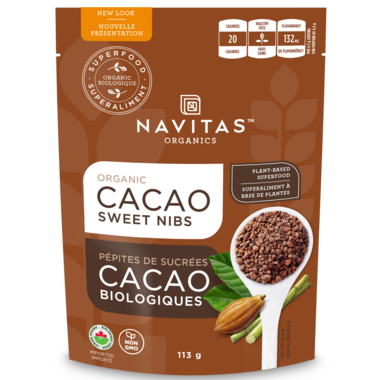 Navitas Naturals Organic Cacao Sweet Nibs
Ask most people to think about Navitas Naturals Organic Cacao Sweet Nibs, and watch a smile instantly appear. Being the ingredient that all chocolate is made from, raw cacao can take commercialized chocolate to a whole new level through the alchemy of homemade chocolate confections. Great for both the true chocolateer and health seeker alike, try raw cacao paired with sweet foods of any kind and experience cacao's beloved chocolate intensity instantly come to life.
Features:
Raw
Kosher
Vegan
Organic
Gluten-free
Non-GMO
Health Properties:
Minerals
Antioxidants
Mild stimulation
Omega fatty acids
Micronutrient Lineup:
Flavonols
Theobromine
Antioxidants
Polyphenols
Magnesium, iron
Ingredients: Certified organic cacao nibs (Theobroma cacao), cane juice (saccharum officinarum), cacao liquor (theobroma cacao)
This product is Peanut and Tree Nut free! However, this product was packaged in a facility that also handles tree nuts (cashews only).