New Chapter Wholemega Extra-Virgin Wild Alaskan Salmon Oil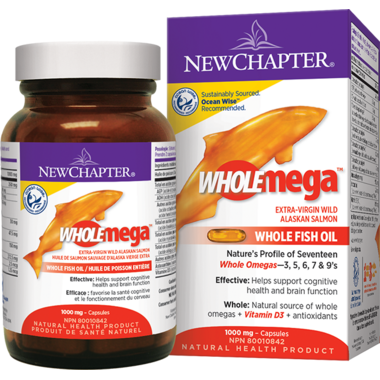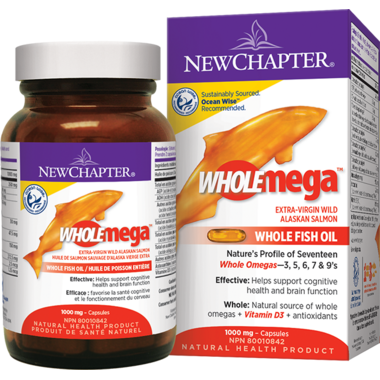 New Chapter Wholemega Extra-Virgin Wild Alaskan Salmon Oil
​Nature's Whole Complement of Seventeen Omegas—3, 5, 6, 7, 8 & 9's
Omega 3, 5, 6, 7, 8, and 9's are fatty acids found in wild fish and often referred to as "good fats." Omegas are present and play an important role in the human cell. Specifically, Omega fatty acids support cognitive health and brain function. They have been shown to support the development of the brain, eyes, and nerves in children and adolescents.
Wholemega is a whole fish oil that delivers the natural profile of 17 Omega fatty acids found in one of Nature's true superfoods—Wild Alaskan Salmon.

Features:
Whole: Natural source of whole omegas + Vitamin D3 + antioxidants
Effective: Helps support cognitive health and brain function
100% Wildly Pure Salmon

Gluten free
Non GMO
Allergy Alert: Contains fish.Recommended dose:
Children (1–8 years), Adolescents (9–18 years), Adults and Pregnant Women—Take 2 softgel capsules daily with water.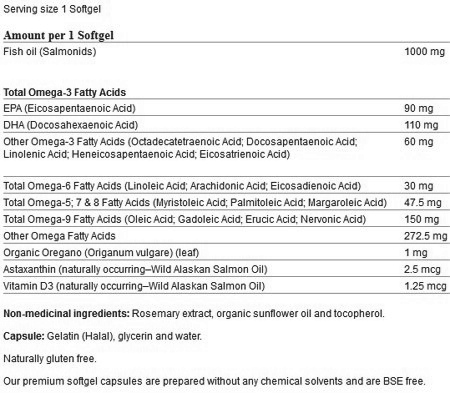 Rebecca:
more than a year ago
this product was recommended to me by a friend, and I must say I am impressed. Very often fish oil tablets give you the "fishy burps" and I have not experienced that with these! I also love the fact that this is a sustainable product, from wild salmon, not farmed salmon.
Page
1