New Roots Herbal IBS Urgency 10 Billion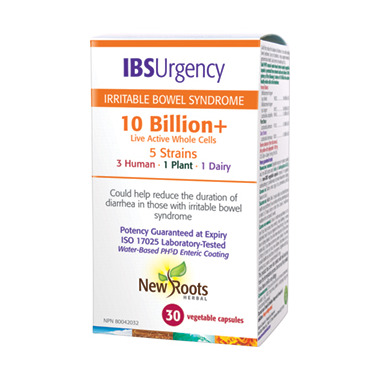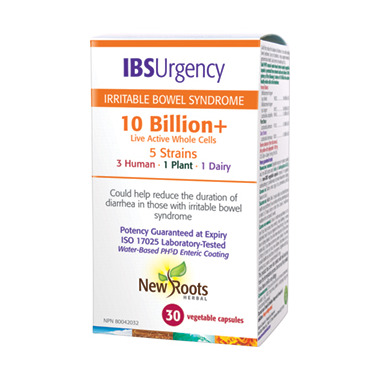 New Roots Herbal IBS Urgency 10 Billion
Please be advised that Well.ca follows manufacturer guidelines for storing & shipping probiotics. This product will be shipped with ice-pack to maintain product efficacy.
- We're sorry, this product is no longer available!
- Shop for other products in: Probiotics

IBS Urgency harnesses the therapeutic potential of five probiotic strains, with proline-rich polypeptides from colostrum. IBS Urgency could help reduce the duration of diarrhea in those with irritable bowel syndrome. Helps support intestinal/gastrointestinal health.
Helps relieve irritable bowel syndrome symptoms such as diarrhea, constipation, flatulence, and painful bloating
Contains D-mannose to effectively eliminate harmful E. coli bacteria
Features our water-based PH⁵D enteric-coating for optimal results
Directions:
Adults: Take 2 capsules daily or as directed by your health care practitioner. If you are taking antibiotics, take this product at least 2–3 hours before or after them. Consult a health-care practitioner for use beyond 5 weeks.
Caution:
Contains no: Preservatives, artificial flavour or colour, sugar, wheat, gluten, yeast, citrus, or eggs.
Cautions and warnings: Consult a health-care practitioner prior to use if you have nausea, fever, vomiting, bloody diarrhoea, or severe abdominal pain; if you are pregnant or breast-feeding; if you have liver or kidney disease; if you have been instructed to follow a low-protein diet; if you have an immune system disorder; if you have a history of cancer; or if you have diabetes. Discontinue use and consult a health-care practitioner if symptoms of digestive upset (e.g. diarrhoea) occur, worsen, or persist beyond 3 days. This product has come into contact with milk and soy. Do not use this product if you have a milk or soy allergy.
Contraindications: Do not use if you have an immune-compromised condition (e.g. AIDS, lymphoma, patients undergoing long-term corticosteroid treatment).
Keep refrigerated.
Do not use if seal is broken. Keep out of reach of children.
Ingredients:
Source of probiotics. Helps support intestinal/gastrointestinal health. Could promote favourable gut flora.
Each PH5D natural water-based enteric-coated vegetable capsule is protected from stomach acids and delivers 100% potency of the following 5 strains of 10 billion live active healthy whole cells to the intestines:
Human Strains:
Bifidobacterium longum ssp. infantis
R0033
3.40 billion CFU
Bifidobacterium longum ssp. longum
R0175
3.40 billion CFU
Lactobacillus acidophilus
R0418
1.13 billion CFU
Plant Strain:
Lactobacillus plantarum
R1012
1.13 billion CFU
Dairy Strain:
Lactobacillus rhamnosus
R0011
1.13 billion CFU
Bovine colostrum (from Bos taurus), 8% proline-rich polypeptide
180 mg
Other ingredients: Vegetable magnesium stearate, ascorbic acid, potato starch, inulin, and arabinogalactan (A.O.S.) in a non‑GMO vegetable capsule composed of vegetable carbohydrate gum, purified water, and a water‑based enteric coating.

Non-GMO