New Roots Herbal Liver (Milk Thistle)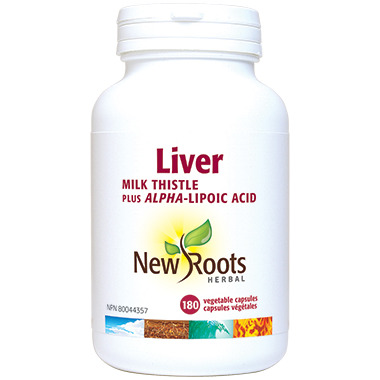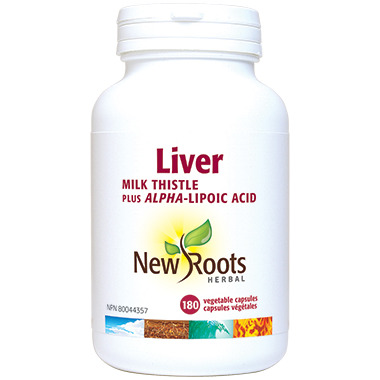 New Roots Herbal Liver (Milk Thistle)
The highest-quality, most potent and effective form of milk thistle extract available, standardized with the greatest concentration of naturally balanced active principles. This formula contains seven premium-quality ingredients well-known for their beneficial properties on the liver.
Promotes liver-cell regeneration and detoxification
Protects the liver from the effects of alcohol and environmental toxins
Helps support liver function and relieve digestive disturbances
Directions:

Adults: Take 1 capsule three times daily with food or as directed by your health-care practitioner. Use for a minimum of 3 weeks to see beneficial effects.
Caution:

Cautions and warnings: Consult a health-care practitioner if symptoms persist or worsen. Consult a health-care practitioner prior to use if you have liver or gall bladder diseases and/or intestinal obstruction; if you are pregnant or breast-feeding; if you are taking antiplatelet medication or blood thinners; if you have gallstones or a bile duct obstruction; if you have stomach ulcers or excess stomach acid; or if you have diabetes. Do not use if you are allergic to plants of the Asteraceae/Compositae/Daisy family.

Known adverse reactions: Hypersensitivity, such as allergy, has been known to occur; in which case, discontinue use. Discontinue use and consult a health-care practitioner in case of sweating, paleness, chills, headache, dizziness, and/or confusion, as these may be symptoms of serious low blood sugar.

Do not use if seal is broken. Keep out of reach of children.
Ingredients:
Each capsule contains:
Milk thistle (Silybum marianum) seeds, 80% silymarin
250 mg
Oriental radish (Raphanus sativus var. niger) roots
120 mg
Beet (Beta vulgaris) root
120 mg
Dandelion (Taraxacum officinale) root, 3% flavonoids
50 mg
Artichoke (Cynara scolymus) leaf, 5% cynarin
35 mg
Curcumin, 95% curcuminoids
50 mg

dl

‑alpha‑Lipoic acid
50 mg
Schizandra (Schisandra chinensis), 9% schisandrins
50 mg
Other ingredients: Vegetable magnesium stearate and silicon dioxide in a non‑GMO vegetable capsule composed of carbohydrate gum and purified water.
Non-GMO