Nicorette Mini Lozenges Fresh Mint 4mg
4mg (For adults smoking 25 cigarettes or more a day)
88 Lozenges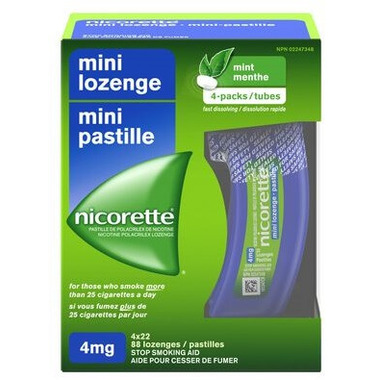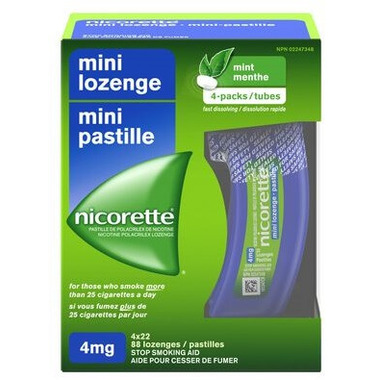 Nicorette Mini Lozenges Fresh Mint 4mg
4mg (For adults smoking 25 cigarettes or more a day)
88 Lozenges
Nicorette Mini Lozenges allow you to experience all the effective craving and withdrawal relief of Nicorette in a tiny lozenge. With 4 milligrams of nicotine, each lozenge helps you fight cravings and reduce withdrawal symptoms to help you quit smoking.

Using Nicorette Mini Lozenges correctly can double your chances of quitting versus willpower alone. Place one of these Nicorette mint-flavoured lozenges in your mouth whenever you feel the urge to smoke, up to 15 times a day. These lozenges are indicated for adults who smoke more than 25 cigarettes a day, who want to stop smoking. Feel confident in your quit attempt with this smoking cessation aid.
Features:
Calms cravings
4 mg of nicotine per piece
Doubles your chances of quitting versus willpower alone
A Nicotine Replacement Therapy (NRT) and smoking cessation aid
Great tasting Fresh Mint flavour.

Instructions for Use: Before use, read the enclosed User Guide for complete instructions and other important information. Nicorette Mini Lozenge is a medicine that must be used a certain way to get the best results. Place the lozenge in your mouth and occasionally move the lozenge from one side of your mouth to the other until completely dissolved (about 10 minutes). Minimize swallowing. DO NOT CHEW OR SWALLOW LOZENGE.
ADULT DOSAGE (>18 yrs): If you smoke 25 cigarettes or less a day, use 2 mg nicotine lozenge. If you smoke more than 25 cigarettes a day, use 4 mg nicotine lozenge according the following 12 week schedule:
Weeks 1 to 6: 1 Lozenge every 1 to 2 hours
Weeks 7 to 9: 1 Lozenge every 2 to 4 hours
Weeks 10 to 12: 1 Lozenge every 4 to 8 hours
DO NOT USE MORE THAN 15 LOZENGES PER DAY. If the amounts of Nicorette Mini Lozenge you are taking do not help you stop smoking, talk with your healthcare provider about using more than one type of nicotine replacement therapy at the same time.

Ingredients:
MEDICINAL INGREDIENT: Each lozenge contains 4 mg of nicotine as nicotine polacrilex.
NON-MEDICINAL INGREDIENTS: acesulfame potassium, calcium polycarbophil, flavours, magnesium stearate, mannitol, potassium bicarbonate, sodium alginate, sodium carbonate, xanthan gum.

WARNING: Consult your doctor before using this product if you have/have had heart, thyroid, circulation, stomach problems, high blood pressure, or if you are taking insulin or any prescription medicine.
In case of overdose get medical help or contact a Poison Control Center right away.
DO NOT USE IF YOU ARE: pregnant or nursing, are under 18 years of age, are an occasional or non-smoker or if you are allergic to nictotine or any of the non-medicinal ingredients. Keep out of reach of children and pets.